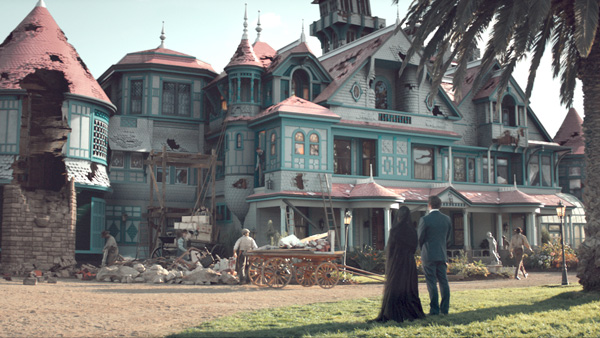 Cutting Edge
As the principal VFX and Post Production vendor, Cutting Edge was tasked to deliver 183 VFX shots for the horror-biography feature, Winchester. VFX highlights include digital matte paintings and set extensions of the 1906 version of the Winchester mansion, by digitally extending a single floor of a practical facade, and a foreboding levitation scene - requiring swarms of CGI rifles and debris.
Winchesters set extensions were the result of many VFX disciplines including modelling, lighting, compositing and digital matte painting. The introduction of drone based photogrammetry to the mix meant we quickly locked-in asset fundamentals, reducing time spent on set surveys and modelling.
Set production designer Matt Putland built the first floor of the Winchester mansion, capturing closely framed drama. When shots shifted wider, our VFX crew were tasked with establishing shots and tilt-ups, to represent the vast size of the building. Although the design of the façade was a close match to the mansion that stands in San Jose today, to capture the 1906 version of Winchester's façade, the paint colour was altered, distinctive fish-scale wall tiling, shingles and repeating features, including balustrades were composited, keeping the assets historically correct for the period.
The Winchester mansion was to be seen from all angles, with moving cameras, and adjustments in lighting during the day, and at night. While our VFX crew had a great resource that the mansion still stands, the building required a 3D build. Working with a local drone team, over 4,000 images of the mansion were captured via drone and hand held cameras. Photogrammetry package Agisoft PhotoScan was employed to create the CG base model of the mansion. The photogrammetry was an excellent guide to how things should be, but was too soft – especially in the details for the distinctive fish-scale wall tiling – and the house was the wrong colour for the period. Section by section our artists replaced the photogrammetry with modelled sections. This was a combination of Maya for the broader architecture, and Houdini to add the procedural shingles and repeating features.
In addition to Winchester's set extensions, digital replications of Winchester rifles were produced for a levitating swarm scene. Here, the rifles have fallen from their glass display cases, and eerily rise then levitate, surrounded by plaster, glass and dust particles. Cutting Edge 3D artists applied unique wood grain patterns and colours for each rifle, complete with dust splatters, with geometric and textural detail added to differentiate the weapons. The rifles had to be photorealistic - while being naturally unique - and also art directable. This was a scene for Houdini, which allowed hand animated options for rifles and debris. Every element needed to be tuneable, such as the rate of spin for the glass fragments, as well as the rate of drift through the air.
VFX Crew Animators

VFX Supervisor Rangi Sutton

Compositing Supervisor Randy Vellacott
Antony Haberl
Compositor Ben Ying
Matt Greig
Garth O'Bryan
Darren Coombes
Ryan Coates
Nicholas Chong
Mina Reyad
Kate Bernauer
Glenn Cone

3D Lead Robert Kelly
Chelsea Shannon

3D Artist John Chen
Julian Davidson
Silvio Jemma
Xanthe Alroe
Sean Jacobs
Sina Rahimpour
Estefania Garcia
Brett Walter
Matt Crump
Brendan Jacquin

Matte Painter Ev Shipard
Amy Wheelhouse

Other Crew

Post Production House Cutting Edge

VFX Producer Flavia Dias Riley
Kasia Rymar
Kristie Godden
&nb