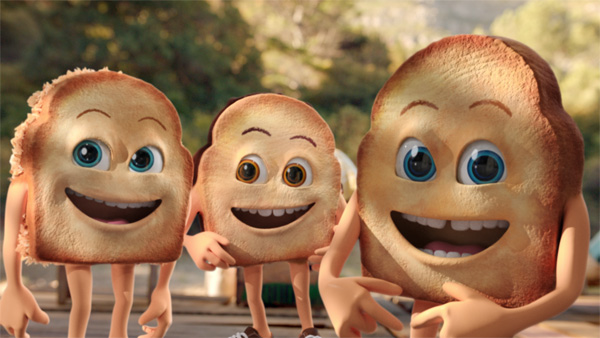 Neverest
A commercial for the favourite snack of your childhood: Brandt Zwieback.
Now in Mini and cute

Crruuuuunch! 'What was that?' surprised and attracted by this cracking noise a group of friends discovers the cute come-to-life Zwieback Mini characters, inviting them to a funky Dance Party in an awesome tree house.
How they learned to dance

Step 1: Turn Zwieback Minis into cheerful characters.

No toast, no cookie, no head. Just a body with limbs.
Looking tasty, but not too realistic. They're not supposed to be eaten after all.

Step 2: Breathe life into the Minis.

Tell amusing little stories through movement, expressions and gestures.
Achieve this by immersing oneself into the Minis and their unique type of movement, while also acting and recording the motions in real life.

Step 3: Create the illusion of a coherent world.

Fuse the Minis seamlessly with the recorded footage and its quick moving shadows, lights, camera and children.

Many thanks for the great collaboration with Tim Stoffel and all the young actors!
Character Design and Texturing: Tanja Kerner, Manuel Kotulla
Modelling & Rigging: Tanja Kerner & Ines Kossack
Animation: Manuel Kotulla, Tanja Kerner, Robert Csakvari, Ines Kossack, Alex Bootz
Compositing: Manuel Kotulla, Tanja Kerner, Robert Csakvari, Ines Kossack
Tracking: Parallaxman
Production: Neverest
Agency: Serviceplan
Director: Tim Stoffel
DoP: Luis de Maia
Producer: Anett Grünbeck
Post Producer: Maggy Fischer
Director of Animation: Manuel Kotulla
Editor: Janine Meyer
Colorist: Florian Wolf
Cinema 4D, Redshift, ZBrush, Substance Painter, 3D Coat, AfterEffects, Fusion, Avid, DaVinci Resovle