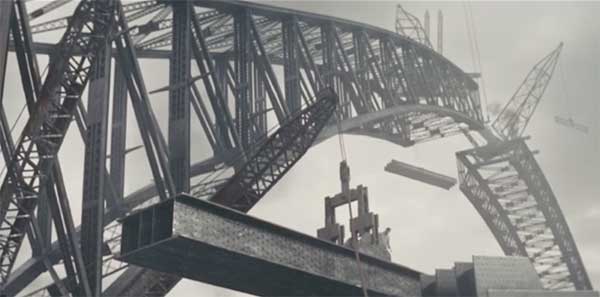 In this film, Australia's oldest bank, Westpac, captures the country's spirit of mateship by illustrating real-life moments of help from the past.
We see people helping each other throughout two hundred years of Australian history - be it in moments big or small. Our journey through the past shows us that the spirit of mateship and the Australian character to help out has been there for a long time.

One scene takes place during the construction of the Sydney Harbour Bridge, as a worker pulls his mate out of the way of a falling beam. And in another key scene a rescue helicopter, which is sponsored by Westpac bank, saves a young man from treacherous floodwaters.

The film is scored with a cover of Bowie's "Heroes", as performed by Australian band, Gang of Youths.

Extensive modelling, texturing, shading and painting was involved in re-creating an iconic Australian structure like the Sydney Harbor Bridge, which is seen from multiple angles. We also had to re-create an accurate geographical location like Sydney Harbor based on limited photos and satellite / terrain data. It is seen being built, with the backgrounds painstaking created digitally to resemble the coastline at that historic period in time. We then had to blend the actors and scenes – shot on green screen – with the historic world we had created using VFX.
In another scene, matching the turbulence and flow of small patches of on-set water and extrapolating them out to large areas to follow the epic nature of the story was another challenge, (since the water was very close to camera and there were large volumes of it) as was the extensive environment work involved in the gold field sequence.

Alt.vfx
www.altvfx.com
VFX Supervisor - Colin Renshaw
VFX Executive Producer - Tyrone Estephan
VFX Producer - Alison Ingram
Modellor - Nathan Rule / Rick Philips
Head of 2D - Matthew Chance
Head of 3D - Nick Angus