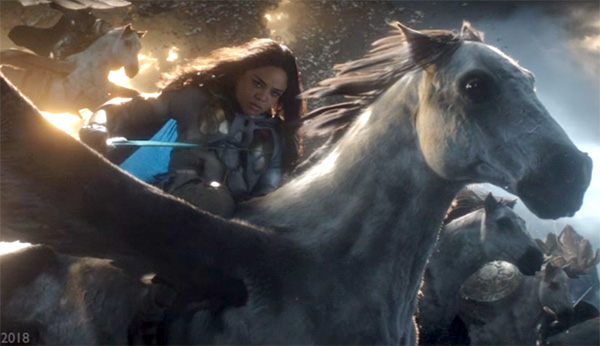 Rising Sun Pictures
Rising Sun Pictures (RSP), Australia's premiere visual effects studio, produced more than 170 final visual effects shots for Thor:Ragnarok¸ Working under the supervision of Director Taika Waititi, production Visual Effects Supervisor Jake Morrison and production Visual Effects Producer Cyndi Ochs, RSP's team spent more than 18 months helping to craft some of the film's most memorable, creative and technically challenging scenes.
Highlights of RSP's contributions include a sequence dubbed "Val's Flashback" involving a furious battle between the film's villain, Hela (Cate Blanchett), and an army of Valkyrie. The team also played a key role in "The Palace Battle", an epic confrontation between Hela and Thor (Chris Hemsworth), and in reimagining the Bifröst Bridge, a magical rainbow that links realms of the Norse cosmos. The project is especially noteworthy for the standout work of RSP's expanded character animation department, who were tasked with creating photo-real horses, Valkyrie and skeleton soldiers, as well as other digital characters.
Led by Senior Visual Effects Supervisor Tom Wood, the RSP team began working on the scene in early 2016 during pre-production. Artists prepared 3D pre-visualisation encompassing every element of the sequence to serve as a guide for subsequent production and post.RSP On-Set Visual Effects, Concept and Pre-Vis Supervisor Adam Paschke headed an on-set team that gathered practical data and provided technical advice during the shoot. Production was followed by months of character animation, visual effects, 3D, matte painting and compositing at RSP's Adelaide studio to produce the finished scenes.
Production Visual Effects Supervisor Jake Morrison
Production Visual Effects Producer Cyndi Ochs
RSP Visual Effects Supervisor Tom Wood
RSP Executive Producer: Gill Howe