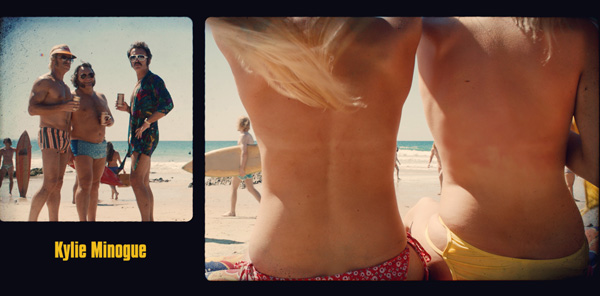 Cutting Edge
From the mind of Director Stephan Elliot (Priscilla - Queen of the Desert), Swinging Safari is nostalgic story about an Australian beachside community in the 70's. The film is an outrageous homage to the best and the worst of the era. A time of boxed wine, hilarious fashions, and dubious parenting.
The art direction and styling of the film was meticulously executed, with Stephan directing the same flamboyance and colour, driving the opening title sequence. Critically, at 4 minutes long, the title sequence was also a key determinant of the film's storytelling structure. We were required to introduce multiple story lines for a large cast, including over 20 VFX shots in a dynamic, feel-good way.
To cater for both story and style Stephan wanted to project in the title sequence, Cutting Edge developed a 70's inspired multi-screen projector look that could animate between film narrative and art directed beach vignettes, without disrupting the dynamic flow of the film.
Every frame of footage was meticulously scrutinised to maximise story and craft. In edit, we continued to build the 70's projector look in Nuke. Lens distortions, aberrations, lots scratches, hair and neg dirt was added, including the 70's disaster movie inspired logo and typography.
Technically, we had to manage huge amounts of data and while the sequence was edited in Avid, the footage was then ingested to After Effects via Premiere, where Director Stephan Elliot could see animations on-the-fly.
As Cutting Edge were managing Swinging Safari's VFX shots – compositing matte paintings, sunglass replacements, and cleanups - multi-layer edits were updated, as shots were completed in Nuke. Managing so much footage around the building was a challenge, but Premiere proved invaluable in developing a smooth workflow between applications and managing all the updates.
The grade was finalised in Baselight using selective mattes supplied from Nuke.
VFX Crew Animators
Titles Director Finnegan Spencer

Titles Editor Laurie Hughes

Animation & Compositing David Williams

Edit Assist Simon Buckton-Collins

Grading Adrian Hauser

Other Crew
Post Production House Cutting Edge

VFX Producer Jayne Reynolds

Film Director Stephan Elliot
Avid, Premiere, After Effects, Nuke, Baselight.