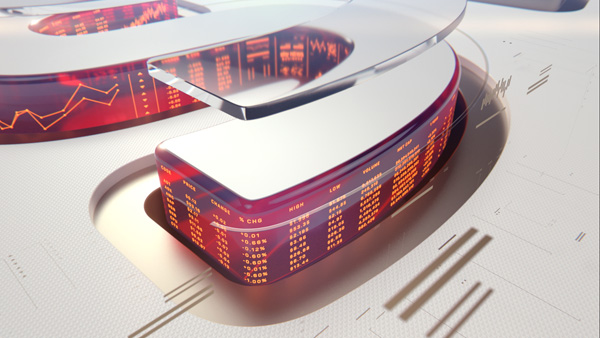 Cutting Edge
Sky News Business approached Cutting Edge to update their hero ident for the launch of their new studio and 18 metre wide LED wall. The brief was to make the ident to feel professional, polished and modern. While quality 3D was a must, the brand wanted to avoid looking like an overly glossy entertainment channel.
Identifying the logo was important. As the hero element, we extruded the logo out of a detailed plane and projected bespoke business data on the surfaces. Reaffirming the logo as the source of all business news was a concept that really resonated with the client, as was balancing detailed 3D with clean textures, reflecting the sky news brand of high quality service and reputable journalism.
After initial storyboards were sketched up, Illustrator was used for dissecting all the logo shapes and business data elements which could then be imported into Maya for modelling and layout. Photoshop was then used to composite the elements for a couple of concept frames, whilst we experimented with materials and colour combinations, wanting clean offset whites with sections of glass and platinum surfaces.
The real key to the job was getting the balance of materials right. Being influenced by the way some high-end car and fashion brands balance negative space with bold graphics, we included a lot of clean area with fine textures to balance the larger areas with transparent, reflective materials.
With an incredibly short time frame to work with, we needed to be nimble with how we approached rendering and any changes that might be needed. We opted for rendering in Redshift, which shaved our previous render times by more than half and gave us a great result. Composting in Nuke gave us another level of polish, and the client was extremely happy with the end result and their launch.
Maya (rendering with Redshift), Nuke, After Effects, Premiere, Illustrator, Photoshop.