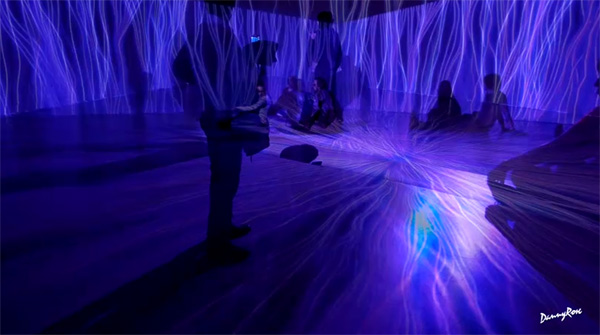 DANNY ROSE STUDIO
INSIDE PLASMA - Pompidou Centre - Paris
An immersive installation at the heart of the matter.
Designed and realised by Danny Rose Studio in collaboration with Labex PLAS@PAR, Sorbonne University's cluster of excellence focused on plasma physics.
An immersive artwork in which art meets science to create a synaesthetic experience of the fourth state of matter: Plasma.
From the infinitely large to the infinitely small, Plasma is the focus of a poetic approach-close to a dream.
The luminous sculptures that the Plasma produces move and materialise in space, creating an illusion of volume that constantly alters perception.
The relationship of the work to the space and the spectator are the core of the scheme that takes shape Inside Plasma.
A continuous conversation of light, sound and the perception of space, this is a work made to be lived, felt and experienced.
The idea for an immersive installation inspired by the nature of Plasma was born out of a meeting between the artists of the Danny Rose collective and scientists at the Sorbonne University's plasma physics laboratory
Their shared goal was to propose a sensory, visual art approach to Plasma. Its changing state can be experienced, from solid to liquid to gas and then, to the fourth state, Plasma itself. The behavior of its particles and their reactions to electromagnetic fields produce unstable swarms of wildly circulating light, flashes that reverberate beside each other with rhythmic variations that create an intermittent electric landscape, polar lights that become moving, luminous sculptures materialising in space.
Particular attention is paid to the music of Inside Plasma. It has been composed as a suite to accompany the visuals and is designed for spatial sound. It creates a synaesthetic experience thanks to the continuous conversation carried on by the spatial sound, the visual creations and the perception of the spectator.
Designed by Danny Rose Studio: Sergio Carrubba, Paola Ciucci, Cédric Péri, Lucia Frigola
Visual artist, animator: Cédric Péri
Original soundscape by Emanuele De Raymondi
Soundscape design and development by Jacopo Carreras
Scientific coordination Sorbonne University: Andrea Ciardi
"Plasma Reflection" is realised in collaboration with PLAS@PAR Labex, Sorbonne University's cluster of excellence focused on Plasma Physics, in partnership with Centre Pompidou Paris