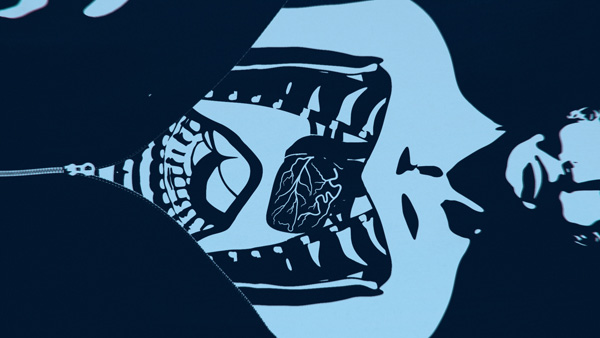 Cutting Edge
Harrow is a ten-part television series that shares the story of Dr. Daniel Harrow, a brilliant forensic pathologist with a disregard for authority and an unfailing empathy for the dead. His left-of-field approach to solving crimes is exactly the approach the series producers wanted in the design of their title sequence, hence the unorthodox two-colour, 2D animation style.
From the opening shot of skeletal remains sinking in the river, to the final dripping 40s-style logotype title, the clues to Harrow's character are revealed in a sequence of fluctuating images leading seamlessly from one attribute to the next.
Whether it be a reflection of the struggle between the two sides of the protagonist's character - the light and the dark - or the effort to keep his head above water, the constant fluid transitions and buoyancy of the camera are indicative of the water theme prevalent throughout the animation.
The sequence was animated in C4D and composited in After Effects with a treatment applied to create the appearance of traditional 2D animation.
VFX Crew Animators

Opening Titles Creative Director Zenon Kohler

Opening Titles Animators Victor Bandeira
Matt Crump
Amy Wheelhouse
Egan Wesener

Opening Titles Producer
Kristie Godden

Other Crew

Post Production House Cutting Edge

Head of Post Production Marcus Bolton

Post Facility Producer Sally Wortley

Post Facility Coordinator Ainsley Pettitt

Colourist Justin McDonald

Online Editor Christian Alcock

Media & Deliverables Operator Patrick Buckley

Dailies Operator Grant Dawson

QC Report John Warneke
C4D, After Effects