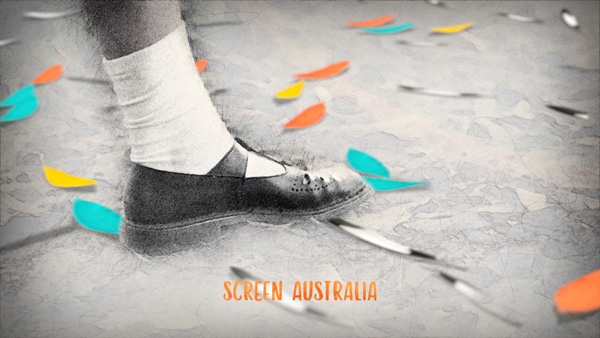 Cutting Edge
Grace Beside Me is a children's series that follows the adventures of indigenous pre-teen Fuzzy Mac, in a charming coming-of-age-story. When her 13th birthday coincides with her new-found ability to communicate with spirits, Fuzzy Mac realises her journey is to belong in both the Indigenous realm of culture, country – and spirits - and the world of a 21st century teenager. The client wanted the title to feel spooky, but upbeat and positive, and most importantly referencing Fuzzy's love of drawing.
We cut a rough edit of footage from the show in Premiere and researched how we could digitally treat and animate a pencil-sketch look. There are many sketch applications and plugins out there, but none could give us a result as good as Photoshop, even though it required using heavy filters and layering with inbuilt brushes and pencils. Making one image was achievable, but creating the entire edit - 1125 frames - in the same style within tight time and budget constraints was looking quite unrealistic. But that's where Photoshop actions helped out.
Photoshop actions were designed to help with tasks you repeat frequently, such as resizing a file or applying a simple colour grade. So we reworked the elaborate actions structure and developed our sketch look by combining different filters and brushes, eventually settling on a loose, organic style that could react uniquely to each frame we submitted.
Nuke then composited the frames, mixing it back with the original live action. This was then complimented by some extra animations - colourised leaves, feathers and particles from Maya and After Effects, to give the surreal world some extra playful colour and depth.
The brightly coloured logo and type were treated to look like Fuzzy Mac's teen handwriting, and the client thought the final result was spot on for spookiness, fun, and the all important use of illustration. Photoshop actions weren't really designed with animation in mind, and each frame took about 4 minutes to complete, but it was an interesting process trying to push it as far as it would go, and develop a technique that would deliver a good result within the time and budget.
VFX Crew Animators
Creative Director/Animation Finnegan Spencer

Editing & Compositing Darren Coombes

Editor Simon Buckton-Collins

Compositing/Animation Stephanie Cholakyan

3D Animator David Williams

Other Crew

Post Production House Cutting Edge

Head of Post Production Marcus Bolton

VFX Producer Jayne Herrmann

Post Producer Sally Wortley
Titles Producer
Jane Reynolds