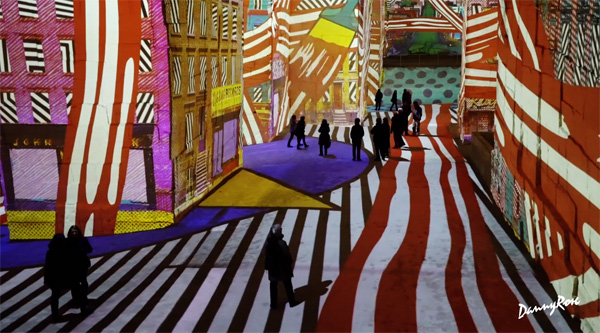 DANNY ROSE STUDIO
FLOWER POWER - POP CULTURE
An Immersive Journey in the Graphic Universe of the Sixties – The Carrières de Lumières - France
The Carrières de Lumières are transformed into an imaginary city, around which the viewers are invited to stroll and lose themselves as they follow in the footsteps of the idealistic generation at the end of the 1960s, which changed the world.
Danny Rose Studio has carried out extensive research and design work that provides an overview of the various movements of the sixties: the 'Flower Power' slogan of the hippie movement with its colourful artwork, flowers, and slogans; a graphical tribute to the
extraordinary world of Sgt. Pepper and 'Yellow Submarine'; an original portrayal of Pop Art that shows viewers the movement's codes using the imagery of mass culture, everyday objects, comic strips and a concluding part that celebrates states of altered perception with Kinetic and Optical Art and psychedelic iconography.
All the facets of the cultural revolution that was to become "Popular Culture" are projected onto the walls of the Carrières: the generation's art, fashion, symbols, and icons take the viewers into the very heart of this incredible explosion of creativity.
Colourful hippy-style motifs appear on the walls of the buildings. Giant flowers grow in front of the facades and begin to invade the city. The streets are filled with faces, symbols, and icons of art, taking the viewers into the heart of this period in history.
The streets of this imaginary city are filled with the wonderful music of the sixties, from the Beatles' legendary album Sgt. Pepper's Lonely-Hearts Club Band to the psychedelic music of Jimmy Hendrix and music by the Rolling Stones, Simon and Garfunkel and the Beach Boys, a representative sample of the period's diversity and creativity.
This immersive work was created for "LES CARRIERES DE LUMIERES," a unique and monumental space for immersive digital exhibitions.
More than 7000 square metres of projected surface on the walls of an antique quarry carved inside the mountain.
Created by Sergio Carrubba, Paola Ciucci, Lucia Frigola, Cédric Péri
Visual artists: Lucia Frigola, Cédric Péri, Muriel Brisac
Illustrations: Marie Gosselin, Diego Akel
Soundtrack concept: Sergio Carrubba
Sound editing and sound design: Narayana Minozzi, Giulio Ronconi.
Creative Director: Sergio Carrubba
Produced by Culturespaces