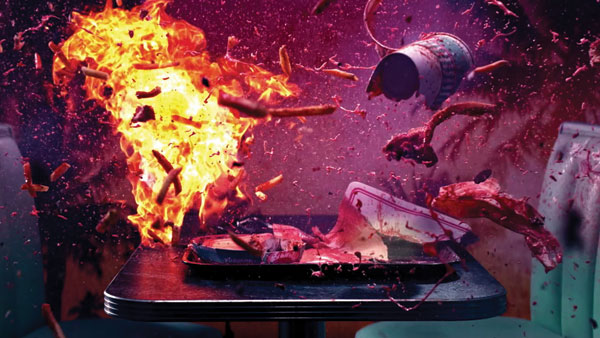 Neverest
Through abstract and unusual interpretations, the film displays the liberation of human agility, mind and inner self.

Many of the shots were created directly at the large, lovingly and in detail decorated set.
VFX & Animation were necessary for those shots, that where too fantastic or simply too far away to film on location: especially the desert, the beating heart and the void.

The desert was created procedurally in Houdini, corrected with the Cinema 4D Sculpting tools and finally textured by hand in Substance Painter. Dust Clouds were generated in Houdini and combined with X-Particles, that are being blown over the edge of the dunes, add a special sense of depth to the image.

The blood flowing into the heart is composed of several animated textures and maps, which create the visible plasticity.

The void was developed in close collaboration with the directors. It is a surreal landscape in which a 3D scanned model of the actor hikes into the distance.

In the pixel explosion scene the brains' transformation into a 2D pixel image was created via Cinema 4D's Motion Graphics system before using AfterEffects to animate the pixel graphics and matching the 3D and 2D elements into one consistent animation.

For the foggy night street, we utilized Redshift for the first time, to benefit from its fast rendering of volumetric light. The textures were generated procedurally in Substance Designer.

After the addition of several retouches and the final compositing the project was completed.
Animation & VFX: Manuel Kotulla, Robert Csakvari, Ines Kossack, Tanja Kerner, Chris Faber
Production: Neverest
Agency: Serviceplan Campaign 2
Director: KRONCK
DoP: Luis de Maia
Creative: Christian Sommer
Producer: Anett Gruenbeck
Post Producer: Maggy Fischer
Editor: Martin Bierbaum
Colorist: Florian Wolf
Cinema 4D, Octane, Redshift, XParticles, Houdini, PFTrack, AfterEffects, Avid, DaVinci Resolve