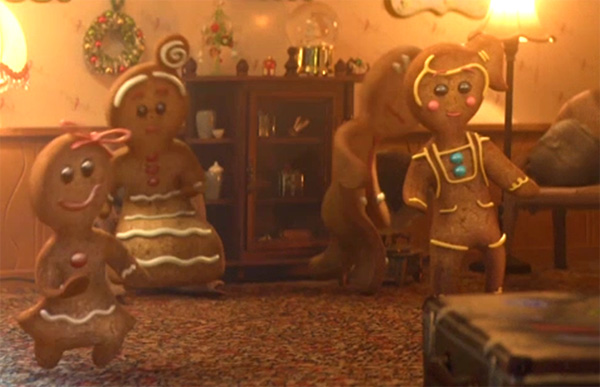 Alt.vfx
Christmas at David Jones officially launched with the release of the department store's highly anticipated Festive campaign, which extends a theme from the TVC to the stores Christmas windows. The star of the campaign, entitled 'Now It Feels Like Christmas', is an expat Gingerbread Man, who, like thousands of Australians abroad, yearns for home, his family, and a warmer climate at this time of the year. His story is told in a 90-second film which is central to the campaign, following him as he embarks on an epic, heart-warming journey home, visiting landmark shopping destinations around the world on his journey. Carefully selecting gifts for his loved ones at each stop, the Gingerbread Man narrowly avoids peril on a number of occasions before safely returning to his family in the iconic windows of David Jones.

Shot on location across Europe, the CG character was brought to life using all the skills our artists have. We helped design the character, using extensive pre-vis to find the right height, weight and movement to make it believable within a live action environment. Our artists worked with motion capture, animation, VFX and detailed compositing to marry the animated character to all of the base plates. Rather than use traditional hand painted textures we decided to use fractal procedural textures that are resolution independent. This gave us infinite levels of detail, rather than a fixed level that pixel based textures give. This allowed us to move the camera as close as we liked to the character, in fact the closer we got, the better he looked!
We then used texturing, lighting and grading to bring about the final look, a warmth that reflected the good feelings of the festive season.
Director - Mark Albiston
Agency: TBWA + Maud
Chief Creative Officer - Andy DiLallo
Creative Director - Toby Norris (Maud)
Creative Director/ writer - ian Williamson
Assoc Creative Director - steve hanzic
Assoc Creative Director - Nev Fordyce
Production company - The Sweet Shop
Production Company Producer - ANDY MAUGER
Executive Producer - Loren Bradley (Sweet Shop)
Group Account Director - Gemma Rees
Agency Producer - Lisa Brown
Senior Account Director - Colleen Scerri