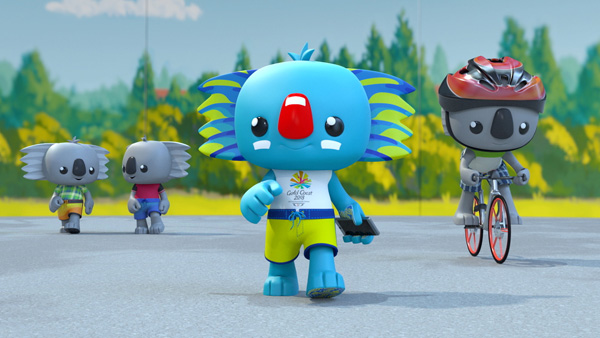 Cutting Edge
The Cutting Edge journey with Borobi began two and a half years before the 2018 Gold Coast Commonwealth Games. The design and animation team were tasked with developing the mascot for use in 3D animation, 2D artwork and as a fully-functional costume with the ability to jump, dance and even surf. The final character had to be marketable and merchandisable, whilst embodying the spirit of the Games.
Over 134 Borobi assets were delivered comprising animation and stills. These included, but were not limited to, in-venue screen presentations, social media communication, official GC2018 app promotion and spectator messaging.
All sequences were animated in Maya and V-Ray rendered. After Effects was used for all compositing and motion graphics.
Now that the Games have concluded, Borobi is a proven fan favourite. His iconic signature poses were developed into a range of merchandise including, stamps, coins, plush toys, and wearables. All 90,000 of the bright blue plush toys were sold out before the end of the Games – raking in millions in revenue.
VFX Crew Animators
Creative Director Zenon Kohler

Animation Director Ian Anderson

Storyboard
Ian Anderson

Lead 3D Matt Dye

Lead Motion Graphics & Compositor Victor Bandeira

Model & Rig Andrew Kimberley
Ahmed Nashabe
Alistair Ferguson

Senior Animator Andrew Kimberley
Matt Dye
Sarah Collier

Animators Brendan Jacquin

3D Artists Matt Crump
Rob Conn
Phil Jackson

2D Artists Ross McPherson
Amy Wheelhouse
Jasper St Aubyn West

Other Crew

Post Production House Cutting Edge

Executive Producer Trelise Blade

Post Facility Producer Jessica Vines
Flavia Riley
Sarah Burton

Sound Design Mike Lange
Heath Plumb
Michael Thomas
Maya, V-Ray, After Effects