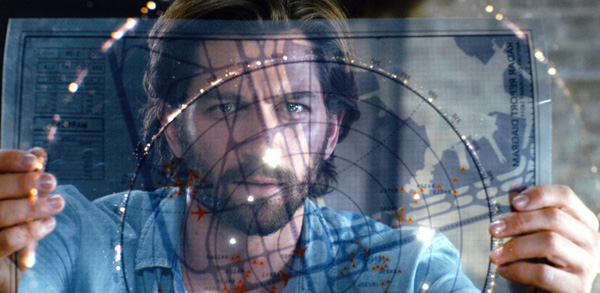 Cutting Edge
New York City air traffic controller Dylan Branson's life is derailed when at precisely 2:22, a blinding flash of light paralyses him for a few crucial seconds as two passenger planes barely avoid a midair collision. The ominous patterns repeat themselves every day at the same time, building dangerously in intensity and Dylan must break the power of the past, and take control of time itself.
Director Paul Currie wanted Cutting Edge to concept and execute graphic animations for the way Dylan experiences this time anomaly affecting his daily life, and how it develops to the point where he can control the patterns and align events in time. There were many plot lines that needed connecting via the animations - the star constellation Aries, a near miss at the airport, and Dylan's handwritten notes of repetitious events. Paul wanted the animations to feel ancient in nature, like a bridge in time that had been left open for centuries, whilst still being affected by modern influences from Dylan's world, like the airport.
We went through several rounds of concept frames using After Effects and Photoshop, then began research using Houdini to develop layered 3d particle system assets for each scene. The style of the anomaly develops through the film so we needed a lot of controllers to make small adjustments from shot to shot.
Pre-visualisation was quite extensive to ensure the particle layers and patterns Dylan sees all aligned precisely with footage plates. After the edit was locked in Avid, shot plates were distributed and then tracked in Maya, with After Effects used for bash comps and combining pre-visualisation tests. Final compositing was executed in Nuke, where we added extra layers of distortion and warping, with final grading in Baselight.
All animations in this edit were designed and executed by Cutting Edge, with the exception of an extreme wide shot time-lapse shot of New York Airport at night at 0:54 seconds which is stock footage.
The music track "Like or Not" by Ben Moses is from the film 2:22.
VFX Crew Animators
Creative Director/Design Finnegan Spencer

Lead VFX Supervisor Simon Maddison

VFX Supervisor Alex Lay

Previs/3D Animation David Williams

3D Animator Aevar Bjarnason

Compositors Kate Bernauer, Darren Coombes, David Williams

Colourist Adrian Hauser

Tracking Martin Alvarez
Other Crew

Post Production House Cutting Edge

Head of Post Production Marcus Bolton

VFX Producer Matt Daly

Film Director Paul Currie