Axis Studios' cinematic trailer for trading card game 'Magic: The Gathering' has gone viral. Here the team tells about their pipeline and how 3D worlds can bring new life to established brands.
Axis Studios Creates Sweet Drama for 'Magic: The Gathering'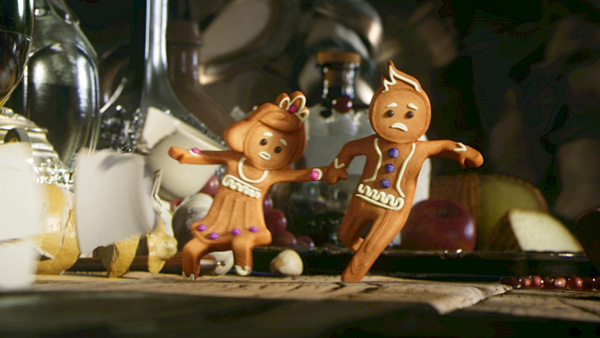 The trading card game 'Magic: The Gathering' has gone viral with a cinematic trailer created by Axis Studios, marketing the game's latest card set. Centring the story on two gingerbread cookies, Axis was originally going to create a 90-second character intro. In the end, a three-minute animated love story emerged, set in a fairy tale castle kitchen where a wild huntsman is battling the guards. The cookies make a narrow escape through a storm of shattering china, floods of milk and a cauldron of boiling soup.
This trailer wasn't only popular – it went viral, racking up 9 million views on Youtube and trending at #3 worldwide 24 hours after its debut. It is now an entry in AEAF's Commercials Animation category.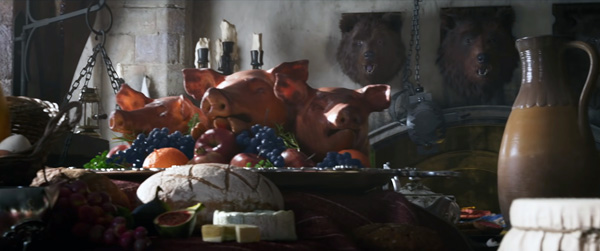 Initial concept art was drawn of a Gothic, Flemish feast overcrowded with food. Naturalistic lighting was later added to complete the look. With a pipeline based on Maya for previs, animation and modelling, the team created textures in Substance Painter and put them through the studio pipeline before publishing them into Houdini for final look development.
The animation is published in an Alembic workflow and then, for FX work and lighting, re-introduced to Houdini's Vellum CFX simulation framework for cloth, hair and softbodies. The render was done using Arnold, making this the first time Axis used Arnold to render a full project. Compositing was completed in Nuke with final balancing and colour grade in Davinci Resolve.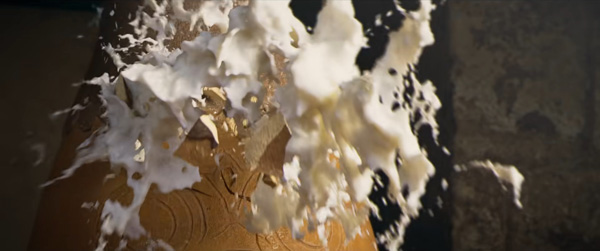 Axis find that the challenge of working on an established IP like 'Magic: The Gathering' comes from the need to stay faithful to the brand – in this case the famous game card illustration – and fan base embedded within the existing lore, while speaking to a wider audience, bringing to life and developing the characters and worlds in 3D. Adding to that challenge was a tight 4-month time frame and the number of FX shots – 46 shots in total, plus 30 shots containing FX.
"Having two characters joined together for 90% of the show was a fun challenge, as was the scale between our main characters and the fight going on around them," said Axis director Stu Aitken. "There were other learning curves as well. We learned a lot about the Dutch Masters, looking at intricate details of still life paintings including how light interacts with different objects and surfaces, since we had many up-close shots of the dining table adorned with food, jars and cooking utensils. We wanted to reflect the detail of the still life paintings of The Dutch Golden Age.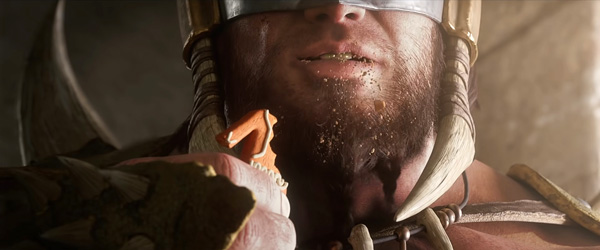 "Implementing Arnold into our pipeline also made a dramatic change, particularly for render speeds since every object demanded so much attention to detail. Because it saved rendering time, we had more iteration time to perfect the outcome and experienced a huge shift in the pipeline, leading to the client/production team prioritising collaboration above traditional workflow.
"The new pipeline encouraged communication and problem-solving, which meant fewer director and client reviews per department, and more reviews watching the work in context. Given the agile nature of such a collaborative effort, timelines became far less of an issue." axisstudiosgroup.com