Entries into AEAF Awards are now closed after a record number of projects were submitted, and coming up in August, AEAF 2021 is bringing a top line-up of Speaker Sessions.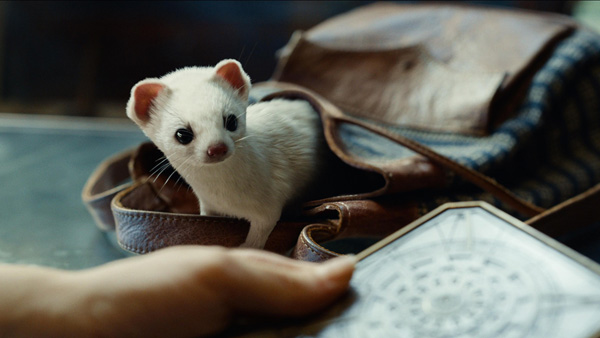 Entries into AEAF Awards are now closed as of 30 June after a bigger-than-ever number of projects were submitted this year. If your team is among the entrants, many thanks for participating. Due to the volume, we are still catching up with the task of posting them all online. Don't worry – all entries will be there very soon.
Your projects are what makes the AEAF Awards happen.
The AEAF Speaker Sessions and Awards Night are coming up fast in August. The Speaker Sessions will all be streamed online as recorded presentations over 18, 19 and 20 August. People who purchase tickets can access any of the sessions, from anywhere. See the bookings page here.
Coming from studios around the world, AEAF 2021 has an extremely talented line-up of Speakers this year – VFX artists, supervisors and animators, ready to share their experiences and expertise gained from working on top TV series and brilliant feature films. Their talks, videos and images will be streamed at times aligned to three time zones so that no one has to miss out. Book now and meet all of the Speakers online.
The Awards Screening will be held both live in Sydney and streamed online on the evening of 20 August. The Finalist Showreel compilation is in progress, and finalists will be announced very soon. Book tickets to attend, in person or virtually, HERE.
Below is news about some of the beautiful projects that have come in recently. The Commercials Animation and VFX categories are both more massive than ever and, reflecting the state of the entertainment industry, the number of TV series is also huge. Exciting blockbusters, Sci-fi spectaculars and dramas have filled up the Feature Film categories. For some movies, we are unable to post videos or breakdowns online, but they will be on the Showreel.
PENNY Market - Imagine
In Commercials - Animation, the Christmas 2020 campaign from PENNY Market, created and animated by Glassworks, shows us how important it is to fight back in bleak times and keep dreaming of a better world, transcending reality to consider the impact of our actions on those around us. The German supermarket works with the Red Cross to support those in need through the sale of Christmas chocolates. To support that mission Glassworks chose a 3D and 2D animation workflow.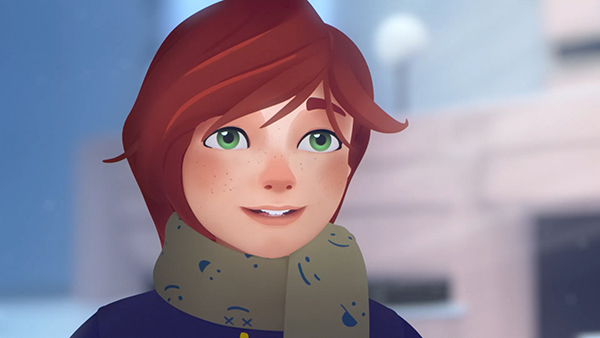 The hand-painted textures and illustrative style emphasise the human emotion and allow us to visualise the young boy's imagination in an organic, artistic manner. This hybrid illustrative style allowed the team effort to blur the lines that traditionally exist between departments in a VFX pipeline: the character designer was texturing, the compositors were lighting, and the 3D artists were painting. Furthermore, the production was developed and executed with a remote team due to the lockdown. Working together during this difficult year, across multiple locations to deliver a timeless message of caring for others, has been an enormous source of pride. www.glassworksvfx.com
A spot from MPC in the Commercials - VFX begins by dropping us in a nondescript neighbourhood in the early morning. The houses are nearly identical – it's almost a little too perfect – and as we see people starting their days, we start to get a strange feeling.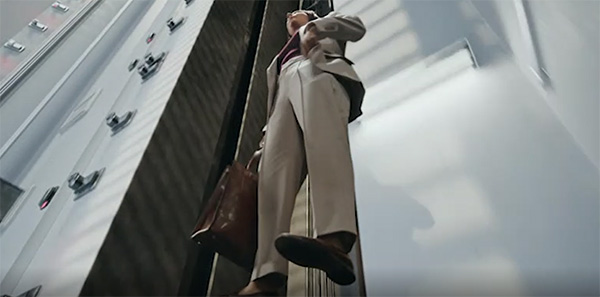 By mixing a familiar world with unnatural digital distortions in Maya and Nuke, the type we see on our devices, the film shows glitches that gamers will instantly recognise including a cat glitching through a pole, a kid floating through the air next to, but perfectly synchronised with, his bike and a bus driver whose face textures have not loaded in. At the end of the spot, all our technical difficulties are resolved, and we get a taste of life as usual.
Dove's Reverse Selfie campaign in Commercials - VFX by Absolute reveals the shocking damages social media is inflicting on young people's self esteem and offers tools to alleviate these social pressures.
Absolute completed the visual effects for the film, creating a realistic 'Photofix' app and seamlessly reversing the effects of the digitally distorted selfie they created through craft with a pipeline of After Effects, Flame and Nuke.
The balance of graphic VFX (the app) vs invisible VFX (the heroine's 'un-doing' of her selfie) was of huge importance and careful, seamless craft was imperative to the narrative.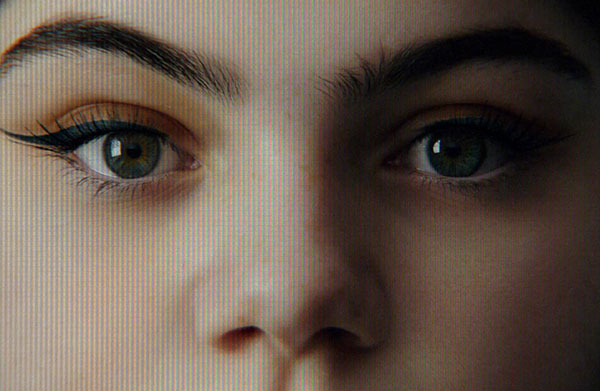 Shot during the height of the UK's second lockdown, Absolute faced the challenge of perfectly maintaining authenticity through remote feedback sessions with the client and team. The teenager in the film isn't an actor, she was street cast, as the shocking truth of just how far digital distortion can go from the comfort of a child's bedroom needed to be shocking, yet relatable.
Zack Snyder's Justice League in Feature Film VFX is the fan-driven reboot of the Justice League story featuring hours of additional footage. The Weta Digital crew created the supervillain Darkseid for his debut film appearance and redesigned Steppenwolf, complete with procedurally generated metallic armour. In total, they delivered over 700 shots, including the futuristic return of the Joker in Bruce Wayne's prophetic dream sequence.
The project made extensive use of both reshoots and visual effects to reinvent the tone and story of the original movie. Half of the shots were updates to existing sequences and added new character designs to existing shots, and the other half of the work involved completely new sequences that had been worked on initially but were not included in the 2017 'Justice League' movie.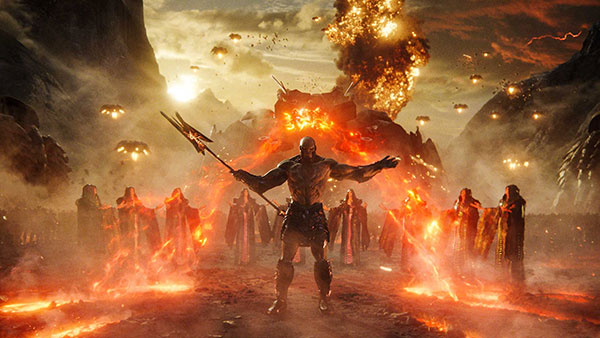 Linking what they was done for the two projects was a huge creative challenge. In the attack on Themyscira at the start of the film, for example, a huge part of the island had never been build as it wouldn't be seen. But this time, Zack expanded the sequence so that the audience sees it from different directions.
The team had to visualise Zack's idea for Steppenwolf with the new, reactive armour. Not only did they change his visual look, but also made him a more alien, aggressive, non-human character. Creating different lines for him and choosing different performances ended up also changing his facial expressions, his style of movement and general behaviour.
The project required a wide array of tools, starting with Maya, Houdini and Nuke supported by Clarisse, Katana, Mari, Substance, Eddy, 3D Equalizer, Massive and a great many specialised softwares to achieve specific looks.
In Feature Films VFX, DNEG has entered TENET. An intricate, detailed, collaborative approach went into creating the undetectable VFX that marks TENET's complex concepts of 'reverse entropy' and 'time inversion'.
DNEG was on the film for just over a year and during that time roughly 300 people worked on the show. DNEG VFX Supervisor Andy Lockley described aspects of working and collaborating on this project.
He said that DNEG has learned to always have real world reference to support their ideas for the director Christopher Nolan. Even the most fantastical effects they have created for him in many films have always had some basis in reality with either a real world reference or scientific research to back it up.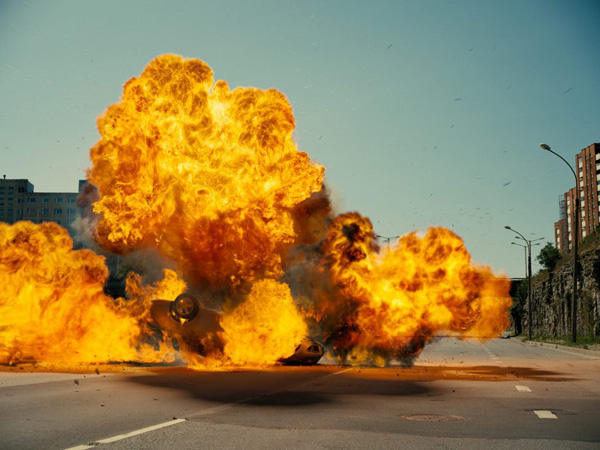 So, early on they tried to visualise the different types of reverse entropy, showing how regular objects react to being damaged by inverted bullets, inverted objects to regular bullets, inverted objects to inverted bullets and other combinations. They even drew up a list of laws, although it eventually had to be adapted to fit the storytelling.
The VFX work relied on close integration with the film's special effects and stunt team, both in pre-production and during the shoot itself to support the team in post – reducing cleanup, for example, or shooting practical elements for later use or helping to shoot miniatures.
The reverse entropy on the Protagonist's flipped car exploding was a tremendous challenge, demanding a lot of time working on how to make it look special and not just like reversed film. Fire and smoke with regular entropy, inverted entropy, mixes of both debris being thrown out and then being sucked back in all at different times from each other – all this called for a lot of subtle detail going on in there and is an example of the almost impossible briefs the FX team had to solve.
In TV Series, Axis Studios and REALTIME each entered their work on Season 2 of Sky's drama, 'A Discovery Of Witches'. Axis flexed their VFX skills for the show, which returns the witch Diana Bishop and vampire Matthew Clairmont to a world of magic. The team combined expertise in FX, animation and environments to recreate a historically accurate CG Elizabethan London, which acts as the dramatic landscape of the series. The Axis team delivered 100 shots for 10 episodes, which included working throughout the challenges of the COVID pandemic.
Creating the show's Elizabethan London was a case of realising the client's narrative vision with the authentic historical world. No detail was spared in actualising the 16th century backdrop, from street furniture to horse bridles. Axis meticulously researched everything.
Street level city shots were created on the physical set, using a Leica BLK 360 laser scanner that scanned the entire construction of streets, buildings and courtyards, informing pre-vis and shot perspectives. Adding atmospheric flair, the Lighting and Rendering departments crafted the moody city scenes of Elizabethan London from dawn to dusk.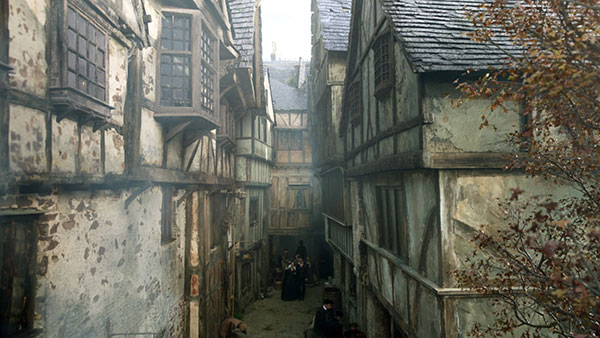 As the second series takes viewers from the contemporary world to period Elizabethan London, 'A Discovery of Witches' blends a mystical narrative between the two. REALTIME provided on-set support, pre-vis and an array of VFX magic to translate the novel to the small screen. The team crafted Emily's 'scrying magic,' Corra the fire drake and a host of supernatural elements for the series.
Emily's magic is a blend of 2D and 3D FX work in which a ghostly apparition appears from beyond the grave. Described in the script as a swirling 'cone of smoke,' it's a performative ritual which Emily attempts four times and becomes more successful each time.
REALTIME created a pre-vis of the sequence, complete with pentagon layout, little candles and an animated character manipulating the smoke. The final FX design was inspired from the brief of a potter's wheel, a spinning form that Emily drives with her hands to conjure the ghost. The look development of the smoke started at the previs stage and was pushed through postvis and final VFX.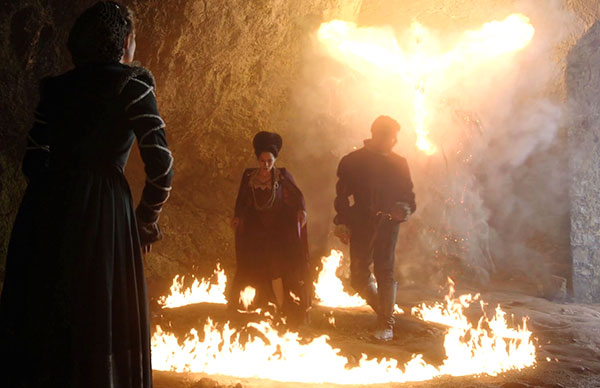 Corra, the fiery familiar, is based on a creature from ancient English folklore. Corra materialises as an ethereal fire drake made of magical smoke and flame, showcasing a combination of creature and technical development. The interactive lighting on set and photorealism were critical, balanced between the exposure of the plate and lighting in VFX. They wanted to avoid that 'CG feeling' that can happen when you don't have a true lighting source.
The full-CG, hand-animated Corra, was rendered in Max and V-Ray, while her teleportation, smoke FX, and fire drake flames were all simulated using Houdini. They took LIDAR scans of the environments on set to help artists align their shots and have accurate measurements of the sets, including the cave environment in the final episode.
Framestore returned to the world of 'His Dark Materials' for the show's second season, delivering 1400+ shots of film-quality VFX and serving as a key creative collaborator. Framestore's work is evident in every episode, bringing each world to life with action sequences, precicse CG environments and carefully-crafted creature work that ensures the show's daemons are as much a part of the cast as their human counterparts.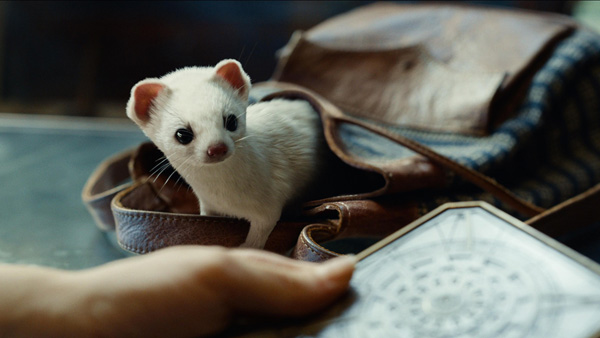 In Series 2 there are huge new cities to explore and new enemies to face, but it gave them a chance to build out characters and ideas from the first season. Regarding the daemons, Framestore's artists grew and developed the characters as much as their in-house tools such as Freak, their in-house rendering software.
The riggers, modellers and artists worked to make it seem that the characters have been living lives beyond the show – they look more experienced and are more subtle in their emotions. It was important to immerse themselves in the characters' movement, behaviour and nuance as well as the storytelling in order to create the emotionally charged sequences for this series. After all, the daemons are derived from, augment or work to conceal the feelings of their humans.