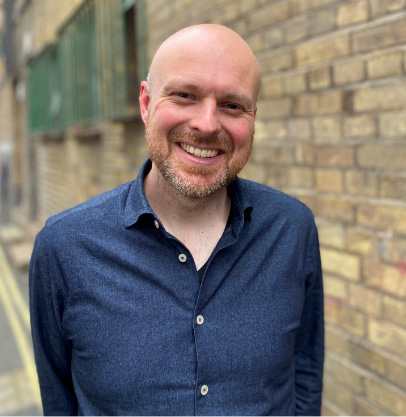 Ross Burgess
Head of Animation, MPC Episodic
With 20 years of experience at the forefront of Film, Episodic and Immersive production, Ross is currently Head of Animation for MPC Episodic.

Throughout a fantastic career with ILM, Dreamworks Animation, MPC and Framestore, Ross has overseen a wealth of different creatures and characters from some of Hollywood's biggest releases in a job that has taken him all over the world. With a love for all things animated, Ross has divided his time between VFX and Feature Animation working on everything from 'Harry Potter' to 'Madagascar'. After 6 years in San Francisco, Ross returned to settle in the UK.
Ross became a key member of the Academy and Bafta Award winning animation team for 'The Jungle Book' at MPC to add to the previous Academy Award win for 'The Golden Compass' at Framestore in 2008. Having expressed a desire to innovate new technology and media, Ross was given the unique opportunity at Framestore to build his first animation department from scratch, focussing purely on Episodic, Advertising and Immersive media. It was during this time that Ross was nominated for two personal VES awards for his animation direction on Framestore's very first fully animated theme park experience, 'Pearl Quest' and more recently for his Animation Supervision on the hyper-realistic stag for 'The Crown'.
Filmography:
Animation Supervisor, 'Jingle Jangle', Framestore (Netflix Film)

Animation Supervisor, 'The Crown', Framestore (Netflix TV)

Animation Supervisor, 'Alien Worlds', Framestore (Netflix TV)

Animation Supervisor, 'His Dark Materials', Framestore (BBC / HBO)

Animation Director, 'Pearl Quest', Framestore (Theme Park Ride)

Animation Lead, 'Beauty and the Beast', Framestore

Animation Lead, 'The Jungle Book', MPC

Character Animator, 'Peabody and Sherman', Dreamworks Animation

Character Animator, 'Madagascar 3', Dreamworks Animation

Character Animator, 'Megamind', Dreamworks Animation

Animator, 'Transformers 2', ILM

Animator, 'Harry Potter and the Order of the Phoenix', Framestore

Animator, 'The Dark Knight', Framestore

Animator, 'The Golden Compass', Framestore