Feature Film VFX
GOLD Dawn of the Planet of the Apes - Weta Digital
SILVER Edge of Tomorrow - Framestore
BRONZE Man of Steel - MPC
The Lone Ranger - MPC
47 Ronin - MPC
Godzilla - MPC
White House Down- Method Studios
47 Ronin- Framestore
Gravity- Framestore
Edge of Tomorrow- Framestore
Kick Ass 2- Nvizible
The Hobbit: The Desolation of Smaug - Weta Digital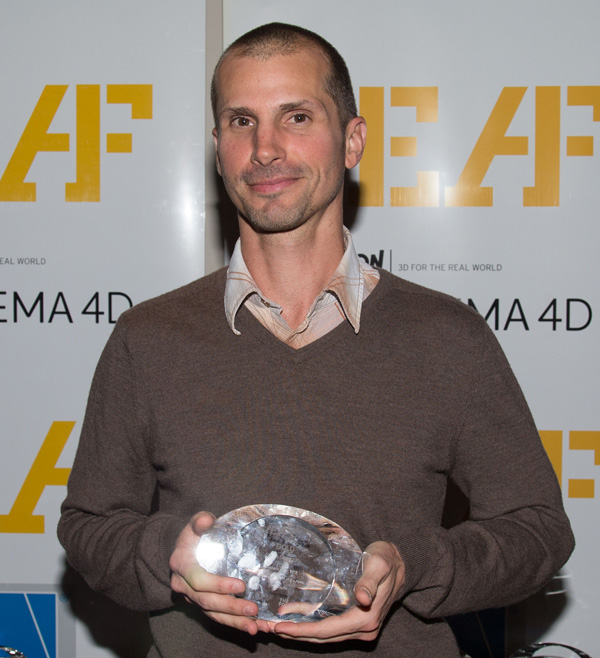 VFX supervisor Keith Miller collects the Feature Film VFX Gold award for
'Dawn of the Planet of the Apes' for Weta Digital.

Live Event Visual Effects & Animation
GOLD MCA Projection - Vivid 2014 - Spinifex Group
SILVER Aquatique Water Projection - Vivid 2014 Digital Pulse
BRONZE Urban Tree Project - Ample Projects
National Maritime Museum - A Viking Adventure - Hackett Films
Timeline - Digital Pulse
DOTY - Digital Pulse
NRMA Occulus Rift Virtual Reality Installation - Fin Design + Effects
Bose Product Launch - Mr.Beam
Brussels Light Festival 2013 - Mr.Beam
Lighting The Sails - Vivid 2013 - Spinifex Group
VW Golf Mark VII Reveal NYIAS 2013 - Spinifex Group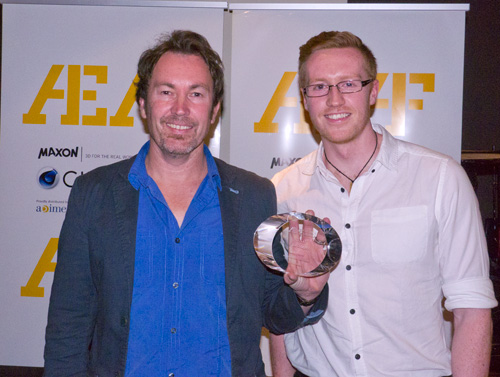 Spinifex Group are the Gold winners in the new Live Events category for their light projection displayed on the MCA in Sydney.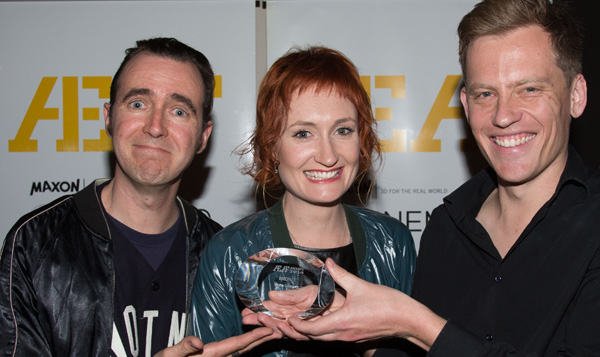 Ample Projects received a Bronze Award for Urban Tree Project, Live Events category.
Commercials VFX
GOLD Smithwick's Squirrel - The Mill
SILVER Assassin's Creed IV Black Flag - Defy - MPC
BRONZE Schweppes - Tumble - Fin Design + Effects
Skoda - Toy Story - FSM
Mountain Dew - 'Portraits' Campaign - Psyop
Canon - Seeing - Alt.vfx
Visa Paywave - Skatewave - Alt.vfx
Milk PEP - Milk Life Anthem - Method Studios
General Electric - Childlike Imagination - Method Studios
Infiniti - Factory of Life - Method Studios
Lipton - Be More Tea - Framestore
Tiger - Uncaged - Heckler
Hyundai 2014 Azera - Also Known As - Rotor Studios
Peach John - Cutting Edge
Subaru XV All Weather Field - Cutting Edge
Worksafe - Resolution Design
Pizza Hut - Project Control - FSM
Preshafruit -Keeper and the Hounds
Honda - Disruption - Rushes
Axe - Call to Arms - The Mill
Nike - Winner Stays - The Mill
The Iconic - Emerge - Engine
O2 - Be More Dog - MPC
Lacoste - The Big Leap - MPC
Tour de France 2014 - SBS Television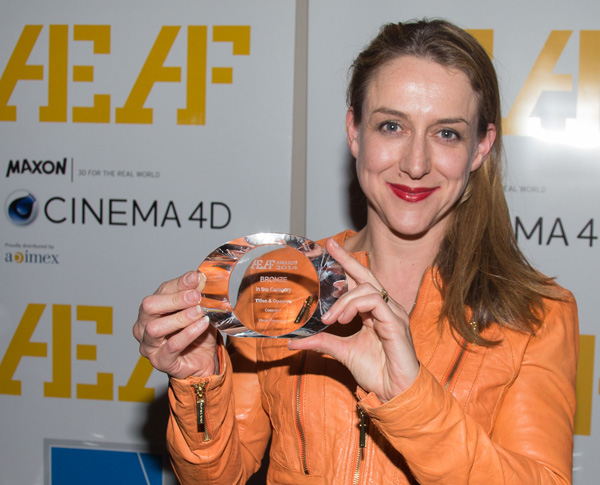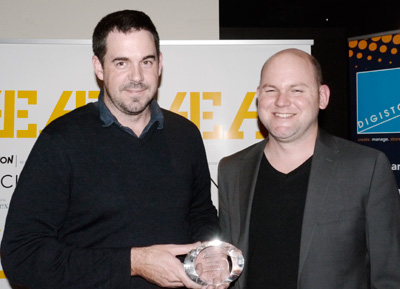 Left: Emily Harridge collected the Bronze award for Visual Playground's Cosentino tiltes.
Right: Engine's Education & Infographics entry 'Slated' won the Bronze award.
Commercials Animation
GOLD Nike - The Last Game - Passion Pictures
SILVER Audi e-tron - Powerwalking - Framestore
BRONZE Challenger - Tree - Fin Design + Effects
The Last Ship - Blind
Xglim Promo - Chaos Factory
ACT for Kids - Cutting Edge
AWU - Cutting Edge
Events ACT - Enlighten - Eye Candy Animation
NRMA Uncovered - Fin Design + Effects
Subaru - Fin Design + Effects
Three - The Big Fish - Framestore
S26 Gold Junio - FSM Film + TV Post
5Fund - Heckler
ASUS ROG 2013 Computex promo video - Hi-Organic Studios
iögo Greko Commercial - Hybride Technologies
Bot Love - for Shaw Communications - LAIKA/house
Cadbury - Purple Reign - MFX Sdn Bhd
MetLife Anthem - Passion Pictures
Little Big Planet Hub - Plastic Wax
California Lottery 'More Luck For Your Buck' - Psyop
Zuji - Resolution Design
SBS Tropfest - SBS Television
Mexican Fiesta - SBS Television
Salvation Army - The Christmas Story - Taste Media
Tine Milk - Olympic Film - The Mill
M&M's - 15 Minutes - Framestore
Short Film
GOLD Habana - Autour de Minuit
SILVER A Tale of Momentum & Inertia - LAIKA/house
BRONZE Alice & the Giant Emptiness - The Solid State
The Master's Voice : Caveirao - Autour de Minuit
The Ringer - Autour de Minuit
Condom - Bigfish.tv
Bugbug Temple - John Power
The Last Artist - Motionlab
Tiny Worlds - Rushes
Sausage - SausageFilm.net
The Gallant Captain - The Lampshade Collective
Trams - A Documentary - TheBeeSneezeAnimation
Sunny Side Up - Ben Noonan
Umbrella Factory - Naissence
Titles & Openers
GOLD TEDxSydney 2014 - Actual - Mindconsole
SILVER Sterlo - Fox Sports
BRONZE Cosentino - Visual Playground
Network Ten Winter Olympics Opener - DD8
The Drum - DD8
Lions Opener - Fox Sports
Rugby HQ - FSM Film + TV Post
Nowhere Boys - Surreal World
ABC 'Exhumed' Broadcast Graphics package - silo:6
Destination Flavour Japan - Spinifex Group
INXS Never Tear Us Apart - International Opening Titles - Visual Playground
Need for Skid - Fabien Vantroys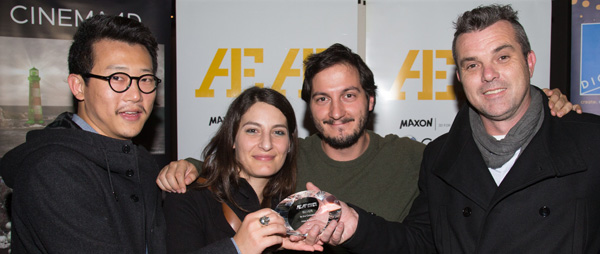 The team from Fox Sports won Silver for 'Sterlo' in Titles & Openers.

TV Series
GOLD Ripper Street Season 2 - Screen Scene
SILVER Nowhere Boys VFX - Surreal World
BRONZE Moonfleet - Screen Scene
The Eggsperts - Flying Bark Productions
Tooned 50 - Framestore
Game Cinematics
GOLD The Witcher 3: Wild Hunt - Platige Image
SILVER Civilization: Brave New World - Plastic Wax
BRONZE Double Happy vs The Infinite Sadness - Monkeystack
The Sundering - Chapter 2 - Plastic Wax
Infinite Crisis - Plastic Wax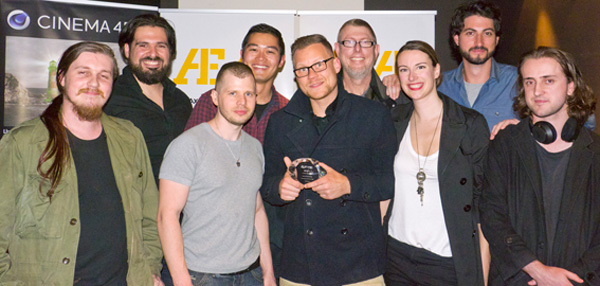 The Plastic Wax team attended in force, and collected a Silver Award for their
'Civilization: Brave New World' Game Cinematic entry.
Student
GOLD Any Witch Way - Sabrina Denault
SILVER Passion Fashion - Tim Strain
BRONZE The Precipice - Tegan Harvey & Cassandra Mallett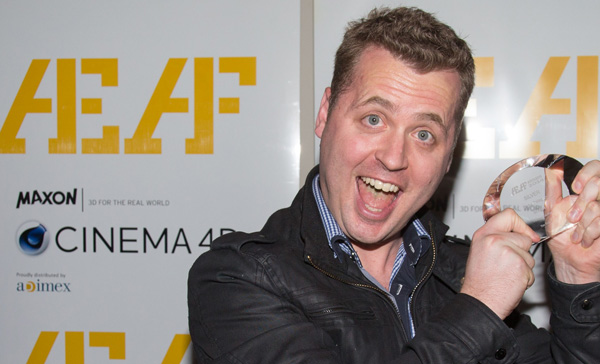 Tim Strain is the Sudent category Silver award winner for Passion Fashion.

Music Videos
GOLD We Are Shining - Wheel - The Mill
SILVER Plastic Flowers - hi-organic
BRONZE Little Darling - Big Cookie Studios
What So Not 'Want In' - Heckler
Les blues du rose - Les lapins de l'espace
Slut - Broke My Backbone - Mindconsole
Young - Oh Yeah Wow
With Good Reason - Dog Trumpet - University of Technology, Sydney
Web Viral
GOLD Beans - Cinesite VFX
SILVER Clever Buoy - Heckler
BRONZE Dasyurus Maculatus - Resin
Sydney Opera House - Festival of Dangerous Ideas - Invisible Artists
Petronas - Chase - MFX Sdn Bhd
Paperclip Apocalypse - Monkeystack
Music Matters - Motionlab
Oxfam Unwrapped - The Magnificent Itch
Castrol Power 1 - Cirkus NZ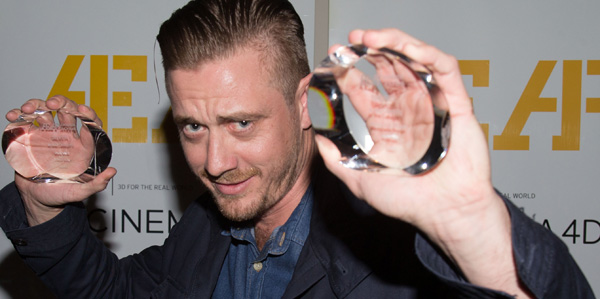 Will Alexander from Heckler shows off the team's Silver for Web Viral for 'Clecr Buoy'
and Bronze for their SkyMovies idents.
Education & Infographics
GOLD Two Left Feet - Resin
SILVER Toyota 2014 Kluger Vehicle Tour - Rotor Studios
BRONZE Slated - Engine
Mind-Blowing Breakthroughs - Astrolab Motion
Pentu -Cutting Edge
Australian Museum - Tyrannosaurs - Eye Candy Animation
Run the River - Eye Candy Animation
The Tour De France Explained in Animation - Infobytes Studios
ANZ Grow - Lucid Edge
Electronic Housing Code - Motionlab
2013 Lexus IS Vehicle Tour - Rotor Studios
Baker and McKenzie - Sharing 50 years of History - Taste Media
Climate Modelling - The Explainers
Cancer Australia - Patient Involvement - The Magnificent Itch
David & the Big Heavy - The Solid State
Mazda Infographic - Visual Playground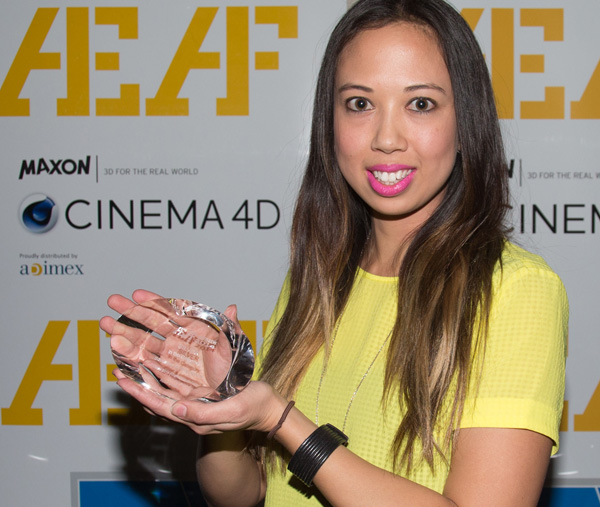 Rotor Studios took home Silver in the Education & Infographics
category for their Toyota 2014 Kluger Vehicle Tour.
Idents & Stings
GOLD HBO South Asia 2013 - MIRARI & CO
SILVER GO! Channel - DD8
BRONZE SkyMovies Idents - Heckler
Tennis Promo - Fox Sports
NRL Launch - Fox Sports
Emporium - Engine
MTV Summer Ident - pictureDRIFT
SBS World Cup App - FSM Film + TV Post
Pause Fest - Yes Captain
World Cup 2014 - SBS Television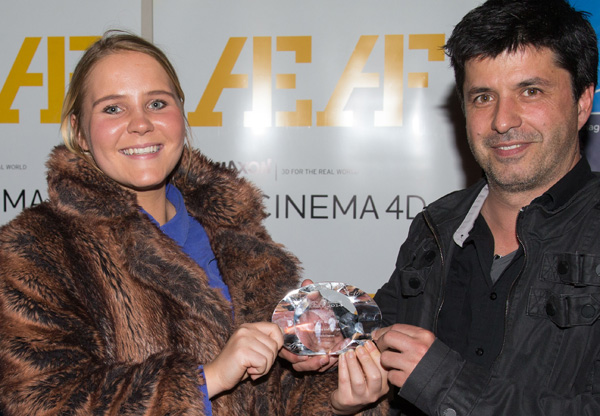 DD8 won the Bronze award for the GO! Channel ident in Idents & Stings.