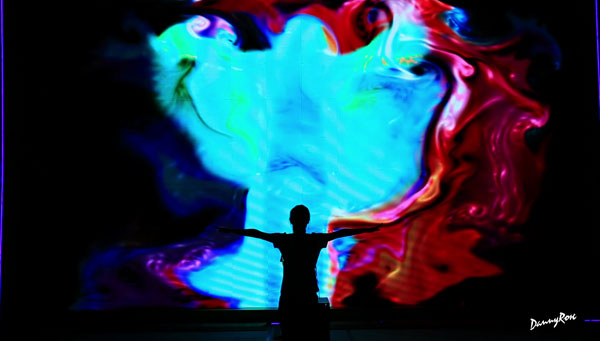 DANNY ROSE STUDIO
It is a generative-interactive work of art that makes it possible for visitors to see themselves reflected into led screens.
Simulation of fluids in real time allows participating spectators to interact directly by moving their bodies.
The silhouettes of those who stand or move in front of REFLECTIONS are diffused in space and are subject to the turbulence generated by the magnetic field.
When you stand in front of the installation you see yourself reflected in led screens. You make the colour vary as you move closer or farther away. When you move your hands, you generate kinetic and magnetic forces that move the matter and provoke turbulences.
REFLECTIONS lives with the people who interact with it. Mutation is constant. Aspects change depending on the position of the movements reflected in it.
It is a spectacle created directly by the visitors who generate the visual component thanks to their bodies movement.
Single persons, couples, even families can plunge into this magical dance.

CATEGORY: Live Event Installations & Projections
CREW
Generative-interactive installation
Designed by Danny Rose Studio
Cédric Péri, Lucia Frigola, Sergio Carrubba, Paola Ciucci,
Visual artists, animators: Cédric Péri, Lucia Frigola

Original soundscape by Narayana Minozzi
Soundscape design and development by Jacopo Carreras
SOFTWARE
Danny Rose's artists designed the project and created it using TouchDesigner node-based visual programming language for installations.