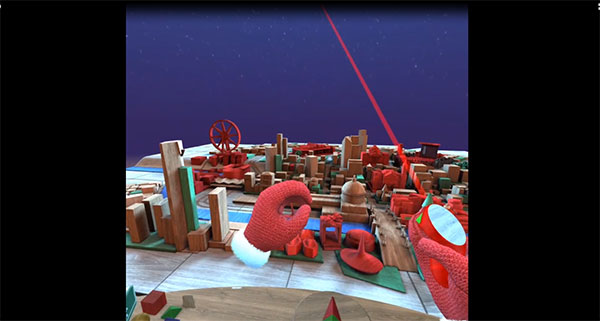 City of Melbourne
CATEGORY: Interactive 360 Experience

Traffik and Red Cartel
The City of Melbourne commissioned Traffik and Red Cartel to build a new VR wayfinder experience for Christmas in 2019. After delivering a successful 2018 VR piece, Traffik wanted something special.

We pitched the "Christmas Compass" , a seated and interactive VR world where visitor experience a Wooden Toy version of Melbourne to explore.
Narrated by a helpful Elf, the visitor can find any of the 36 different things to do around Melbourne and her districts during December . Find the animated characters, popping presents or falling blocks and so many interactive moments to explore and play with.
The experience was live at the Melbourne Visitor's Centre during the month of December 2019 and published to Oculus Quest headsets.
CREW
Director: Erik Bernacchi
Models: Alex Faiad, Lina, Jonny.
Motion: James Neale, Mitch Croft, Alex Faiad
Interactivity: Mitch Croft
Publish: Mark Mulligan
Support: Dmitri, Dex.
Producer: James Neale
Facilities: Landon Curry
Traffik: Jake Ford, Tori Mitchell, Erik Bernacchi, Ryan Wrigley, Florence Brown, Andy Hardiman, Dave Madon, Kent Boswell, Lina Ngo, Cristel Smith Aguero.
SOFTWARE
Unity, Blender, Gimp, OpenProject, Slack, Syncthing, Perforce, Jira, Freeplane, Notepad ++