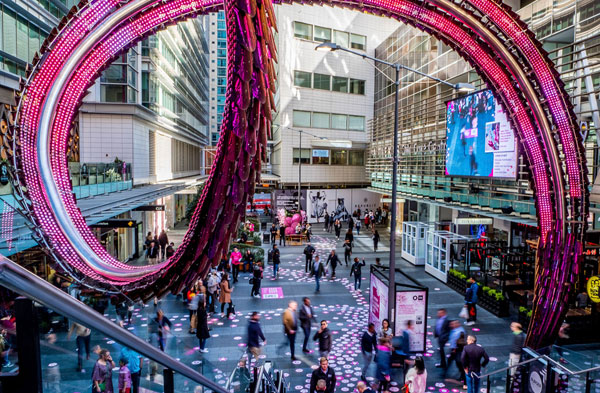 VANDAL
World Square commissioned VANDAL to deliver an augmented reality retail experience at World Square in celebration of its inaugural Cherry Blossom Festival. World Square commissioned VANDAL to develop the digital place making of the holistic campaign for the 2018 Cherry Blossom Festival inclusive of a Live Screen Augmented Experience, Personalised Digital Postcards, Digital Place Identity as well as print collateral, social media asset creation and bilingual onsite ambassadors with Virtual Immersive creating the concept for the AR Screen and realtime personalised messages.
Augmented reality, animated cherry blossoms were integrated live onto the screen for visitors to interact with; touch, push and pop. The experience transformed World Square into an energetic, social hub and is an impressive example of innovative digital placemaking in action.
The ability to interact with the live augmented reality experience by means of sending personalised digital postcards was a key element of the Cherry Blossom 2018 campaign. Using their smart device, visitors were able to create personalised, digital postcards, share them on the big screen and email them to a special recipient. World Square's Digital Place Identity was activated through a "Cherry Blossom River" that connected key activation points throughout the outdoor precinct.
CATEGORY: Augmented Reality and - Live Event

CREW
World Square:
Senior Marketing Manager: Suzannah Nicholson
Marketing Manager: Jessica McAneney
General Manager: John Fairbairn
VANDAL:
CD: Richard Swan
CD: Emile Rademeyer
MD: Brenden Johnson
EP: Anna Greensmith
Snr Designer: Darrin Hanley
Snr Designer: Robert Dinnerville
Snr Designer: Terri Bertakis
Sound Designer: Nigel Crowley
VIRTUAL IMMERSIVE: AR Production
Head of Production: Simone Barker
Lead Software Developer: John Doolan
UX Director: Saxon Dixon