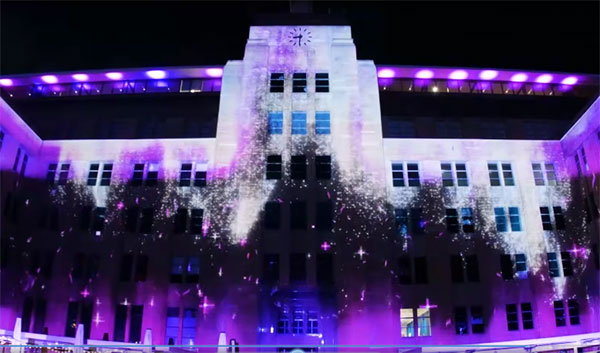 Spinifex Group
Spinifex collaborated with Colombian-born, Sydney-based artist Claudia Nicholson to create an emotionally charged, immersive projection-mapped digital experience that sprung to life on the façade of the Museum of Contemporary Art for Vivid Sydney.

This piece, Let Me Down, is an animated cycle of creation, destruction and regeneration, accompanied by music from Adelaide-based producer Lonelyspeck. The result is a romantic homage to Colombia and the rich cultural traditions Nicholson engages with through her work, remixing them with pop culture references and brand identities to explore her complex transnational heritage.

The commissioned piece adapts four of Nicholson's artworks, three 'sawdust carpets' known as alfombras de aserrín and a floral arrangement known as a silleta. In honour of traditional processional sawdust carpets, Nicholson's large-scale, brightly coloured and ephemeral alfombras de aserrín are disrupted and reconfigured through dance. The silleta draws inspiration from the Medellin flower festival in which large flower arrangements are carried on the backs of participants. Spinifex has worked with Destination NSW and leading artists to create ground-breaking projections for Vivid Sydney for the past nine years. The MCA lit up with Let Me Down from 6pm-11pm every night of Vivid from Friday 24 May to Saturday 15 June. Thank you!
CATEGORY: Live Event Installations & Projections
CREW
Thomas Dicker (Creative Lead, Spinifex)
Prema Bhakti Weir (Animator, Spinifex)
Claudia Nicholson / Spinifex / Lonelyspeck
Melissa Lee (Senior Producer, Spinifex

SOFTWARE
After Effects, Cinema 4D