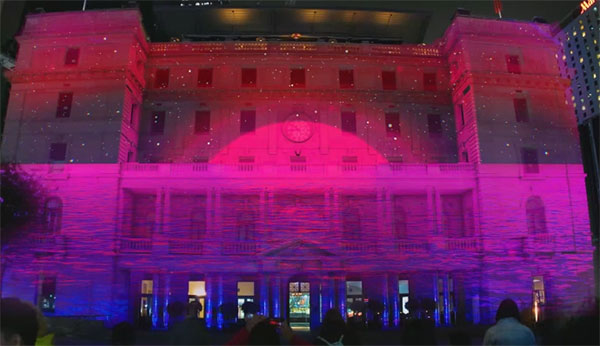 Spinifex Group
This piece dives into the emerald depths of Sydney Harbour, giving it a new life and a new lens. Using the architecture of Customs House as a canvas, Spinifex presents Under the Harbour.
Under the Harbour is the creative vision of Spinifex's Los Angeles-based Design Director Ben Alpass. It is a surreal underwater encounter, it sees a hyper-coloured multi-verse splash across the façade of the historic building. As a rainy twilight gathers across the harbour, a giant octopus bursts out of the water and wraps its tentacles around the sun, dragging it under. This watery world is alive with neon sea creatures, botanical wonderlands, and unclassified oddities. It is a piece created to ignite the imagination by exploring the unknown possibilities of what exists in the depths of the harbour. Inspired by surrealism, escapism, an over-saturated psychedelic colour palette and Ben Alpass's personal artworks, it attempts to pause the reality of the sobering world around us—allowing ourselves to be immersed in a vibrant neon underwater wonderland, full of the unexpected.

The challenge was maintaining the integrity of the design in the animation and balancing this with the technical aspects of projection mapping to ensure that it would be a successful piece. This year's event marked Spinifex's ninth year of collaboration with Destination NSW on the festival of Ideas and Light, Vivid 2019. Thank You!

Under the Harbour will transform Customs House from 6pm-11pm every night from Friday 24 May to Saturday 15 June. Customs House will also feature as one of the five Facebook Live Streams during Vivid Sydney.
CATEGORY: Live Event Installations & Projections
CREW
Artist & Creative Director: - Ben Alpass (Spinifex)
Will Skinner (Creative Lead, Spinifex)
Pepin Portingale (3D Animation, Spinifex)
Tony Papesh (2D Animation, Spinifex)
Thomas Dicker (3D Animation, Spinifex) Melissa Lee (Senior Producer, Spinifex)
Marcus Longfoot (Sound Design, Full Circle Audio)

SOFTWARE
After Effects, Cinema 4D, 3D Max and Blender