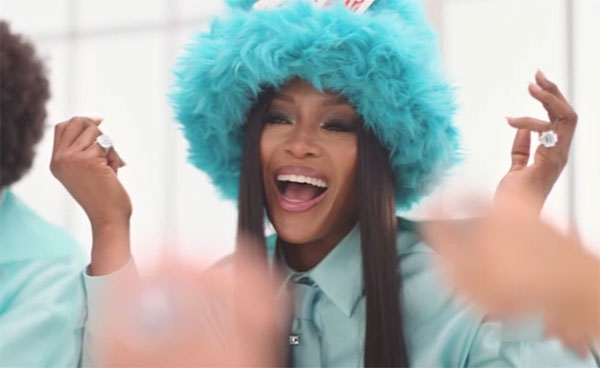 MPC
The holiday spot for Tiffany & Co.'s eagerly anticipated holiday campaign is best described as "Alice in Wonderland" meets "Santa's Workshop".
We are introduced to actress Zoe Kravitz as a sales assistant who is closing the store and is lured towards the flashing heart of a 10-foot robot made from the brand's signature boxes. She climbs inside and falls through a void, landing in a bustling workshop complete with oversized Tiffany jewelry, the brand's resident miniature 'silvermen', and a very interesting "Mad Hatters" tea party.
MPC's main focus was to create the magic and holiday sparkle within the existing shots, including Kravitz's magical transition from the real world to the fantasy world, where MPC created the void of pulsing signature blue light that she is falling through amongst the various other Tiffany objects.
The team also created the oversized animated Tiffany jewelry completely in CG. The keymaker scene featuring Brad Calcaterra as the locksmith was also made possible by the team – they created a larger-than-life gold Tiffany key on an oversized key grinding machine, complete with dazzling specks of gold bouncing off of the key and flying around as it is being crafted.
CATEGORY: Commercials - VFX
CREW
CREATIVE DIRECTOR: Ashley Bernes
VFX SUPERVISOR/2D LEAD: Rob Walker
3D LEAD: Tiago Dias
2D TEAM: Renato Carone, Ruairi Twohig, David Anger, Giulia Bartra, Lawrence Merrill, Rodrigo Jimenez, Gustavo Bellon, Pratyush Paruchuri, Alex J., Ajeet Pratap Singh, Sreejimol CP, Shyam Babu
LA 2D Team: Rodrigo Jimenez, Luis Artigas, Toya Drechsler, Jon Rogala
3D TEAM: Francisco Fraga, Graeme Revell, Jacob Fradkin, Lucy Choi, Wesley Schneider, Santosh, Gunaseelan, Jemmy Molero, Roberto Maki, Joey Sila, Annie Zhao, Tim Kafka, Jinguang Huang, Srinivas, Achary, Vamsi Krishna Reddy, Suresh Pitchuka, Adbul Labeeb, Nithin T K
LA 3D Team: Tim Kafka, Andrew Price, Samir Patel
COLORIST: James Tillett
COLOR ASSISTANT: Daniel Silverman
EXECUTIVE PRODUCER: Matthew Loranger