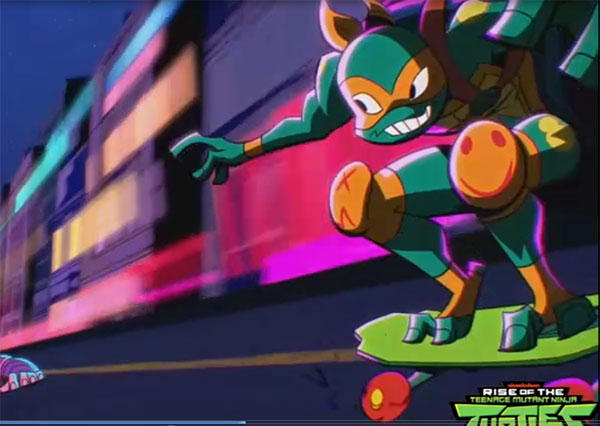 Flying Bark Productions
Opening titles for Nickelodeon's The Rise of the Teenage Mutant Ninja Turtles television series. This is a 2D traditional (paperless) animation mixed with CG animation, produced at Flying Bark Productions, Sydney. Animatics/sound produced by Nickelodeon, and animation, final colour produced at Flying Bark.

This 30-second title sequences is a fast-paced, no holds barred city vehicle chase that introduces us to the turtles fighting off the cast of evil mutants they face in the series.

CATEGORY: Titles/Openers - TV

SOFTWARE
Toon Boom harmony, Maya, Nuke

CREW
Tom Barkel - 2D Animator
Christian Barkel - 2D Animator
Sarah Harper - 2D Animator
Gerard Proust - Ink and Paint
Liem Nguyen - Ink and Paint
James Marsh - Ink and Paint
Yasmin Moini - Ink and Paint Debbie Steer - Producer
Alexia Gates-Foale - Supervising Producer
Barbara Stephen - Managing Director
Heidy Villafane - CG Layout
Jerome Dernoncourt - CG Animator
Kidakorn Tang - CG Modeller
Michael Tebble - CG Generalist
Kit Rigby - 2D Background
Magaly Pylipec - Compositor