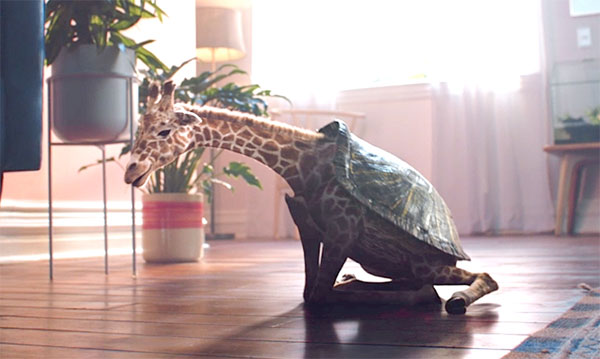 MPC
To showcase their latest product Duos, which combines two of their flavors into one square-shaped candy, Starburst launched a campaign featuring an entirely new creature, which is also a combination of two things. And what better combination of animals than a giraffe and a turtle, to create the outlandish, aptly named Turaffe? As this unique creature does not exist in real life, it was down to the team at MPC to create the photo-real CG hybrid animal.
The team started with pencil drawings before going into the CG stage, to test out different versions of the turtle shell on the giraffe, before they landed on a final version that everyone was happy with. We originally started with a giraffe model and kept its dimensions intact as much as possible, as well as keeping the turtle shell intact too. However, we had to alter the dimensions of both animals slightly as they didn't quite fit together - the turtle shell didn't rest properly on the back of the giraffe's neck – so we explored different options on how to make them fit together in a natural way. Other than that, we tried to stay true to both animals, making them both look as realistic as possible.
We had to think about the restrictions of the shell on the range of motion, so there was this element of physical animation to figure out as we were bringing this creature to life. Key movements, such as emerging from the shell and walking, took a lot of research and exploration to create a photo-real performance that was believable to the audience.
CATEGORY: Commercials - VFX
CREW
CG Lead: Boyo Frederix
2D Lead: Rod Norman
Animation Lead: David Bryan
Executive Producer: Karen Anderson
Producers: Nicole Saccari, Sandra Eklund
Concept Designer: Michelle Tolo
Modeler: Kubisi Younis
Riggers: Amar Chundavadra, Gretchen Asmar
PreVis: Tito Fernandes
PreVis Editor: Joe Mackendanz
Animators: Benjamin Tron, Andrew Price, Samir Patel
Groom/LookDev: Kiril Mirkov, Annie Zhao
Lighters: William Laban, Zhenya Vladi
Storyboard Artist: Roger Hom
Edito: Brett Nicoletti
Designer: Amy Wang
Mnemonic CG Lead: Tim Kafka
Compositors: Gustavo Bellon, Patrick Ferguson, Vivek Tekale, Akula Srikanth, Rahul Verma
FX: Jinguang Huang
Bangalore 3D Supervisor: Mark Robinson
Bangalore 2D Supervisor: Rashabh Bhutani
Asset Supervisor: Kunal Sarkar
Asset Lead: Pritesh Krishnappa Kotian
Assets: Gopika Priya, Sandeep Grover, Sandeep Krishnamurthy, Deepali Negi, Ria Banerjee
Cleanup: Jose Jenoriyas
Matchmove
Ganesh Kumar S, Muruganantham Thangavel
Line Producer: Sanchit Soi
Production Coordinator: Meghna Shetty
Colorist: Kris Smale
Color Assist: Eddie Gutierrez