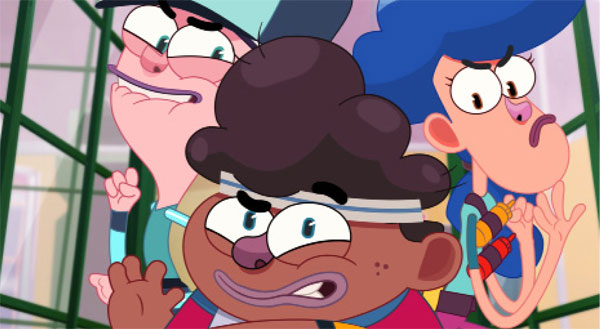 Cheeky Little
Welcome to Champignon. . . Town of Champions, whose stateof-
the-art stadium plays host to a never-ending parade of weird
and wonderful world championships!
Whether as spectators, competitors, event judges or the
guy who owns the hot dog stand, the proud population of
Champignon all know one thing – it's all about the win. Well,
maybe with two or three exceptions…
'Cos then there's Spongo, Fuzz and Jalapeña, three best buds
on summer break with summer jobs making the most of a
town full of world champions. Where they come from, Spongo,
Fuzz and Jalapeña are talented kids with bright futures but in
Champignon, they pale in comparison. But nothing will stop
them from trying to win. . . eventually.
CATEGORY: TV Series - Children
CREW
Lead Animators: Tim Andrews, Tim Cant, Vijay Sagar, Juan Serrano
Effects Animators: Tyler Chan, Marvin Petilla, Colin Bennett, Thiago Barros,
Matheus A. C. Magalhães
Riggers: Michel Borges,Bradley Jordan,Beata Lukasiewicz,Tiago Grigor
Animators: Shaheen Ali, Lívia Aveiro, Michael Badman, Charlotte Barkel, George Battams, Glenn Bailey, Richard Bailey, Charlotte Barkel, Thiago Barros, Joseph Bellodo, Simon Besseny, Deven Bhosale, Marcos Bittencourt, Nathalia Bomfim, Bo Cai, Michael Chavez, Kwan Chemsripong, Bruno Curcino, Vítor Costa, Camila Couto, Stephanie Davidson, Aline Garcia, Deepankar Gautam, Thiago Geremias, Rodrigo Gomes, Oliver Goss, Tom de Groot, Estela Kazmierczak, Pieter Lommerse, Hugo Prado Leite ,Sandip Mali, Lucas Maffeis, Tatiana Moniz, Tess Montgomery-Hughes, Leo Moore, Renante M. Moreno, Tobias Krebs, Michael Lombardi, Sushil Patole, Pravin Pawar, Rafael Peclat, Ganesh Phad, Jack Peereboom, Aarom Powell, Pâmela Ribeiro, Rowena Robles, Gabriel Rosa, Marina T. Rubinato, Daniel San, Juan Serrano, Aonghas Shearer-Boyd, Luiz F. da Silva, Conan Sinclair, Ernie Siriban, Rania Tabet, Tetiana Ternova, Ridzwan Tok,Deepak Waghmare, Tijana Williams
Scene Assembly: Kristy Brodie, Adriana Duran, Tobias Krebs, William Maldonado
Erin Slyney
3D Animators: Lyle Dalgleish, Lexie Mason-Davis, Jin Ong, Liam O'Leary, Joshua Reh
Interns: Kate Lord, Jessica Muspratt, Gisele Nour, Susannah Sylvestor, Chelsea Thompson, Stephanie Chalon, William Partridge
Lead Background artist: Cosmin Hrincu, Kelly Wallwork
Key Background artists: Cosmin Hrincu, Kelly Wallwork, Michael Tomkins
Background artists: Thuan Huynh, Avery Park, Katie Elle, Cai Tse, Kim Drane, Yi Fu, Laura Stitzel, Nicholas Weber, Robert Qiu
Created by: David Webster
Developed by: Patrick Egerton, Patrick Mansour, David Webster
Producers: Isla Curtis, Patrick Egerton
Head Writer: Bruce Griffiths

Written by: Cleon Prineas, Zoe Harrington, Bruce Griffiths, Tim Bain, Joel Slack-Smith, Dan Mansour, Charlotte Rose Hamlyn, Simon Dodd, Thomas Duncan-Watt
Art Director: Darren Keating
Director: David Webster
Spongo: Jonathan Grant
Fuzz: Ilai Swindells
Jalapena: Stephanie Panozzo
Axel: Michelle Doake
Sky: Stephanie Panozzo
Snowden: Colin Cassidy
Taylor: Danielle Catanzariti
Dangles: Alex Williams
Bazza Matazz: Colin Cassidy
Sooki Lung: Danielle Panozzo
Clive Fitsmall: Colin Cassidy
Bingo Berkus: Michelle Doake
Kray Kray: Alex Williams
Referee: Michelle Doake
Chai Harder: Michelle Doake
Eureka: Colin Cassidy
Sue Fle: Michelle Doake
The Gasman: Colin Cassidy
The Mayor: Michelle Doake
Eve Believe: Michelle Doake
Hotel Manager: Alex Williams

Casting: Eardrum
Voice Director: Tristan Viney
Voices recorded at: Sound Reservoir & We Love Jam Studios
Designers: Kristy Brodie, Constance Chew, Noah Holden, Vickie Keriel, Yann de Preval, Patrick Siah, Sapphire Sheedy, Darren Keating
Storyboard Artists: Andrew Bell, Regine Clarke, Maruna Hada, Ivaylo Evans, Ranran Zhou, Jessica Zhuang, Rosemary Fung, Abigal McKenzie
Editor: Daryl Davies
Assistant Editor: Marcia Kelly, Isla Curtis
Head of Storyboards: Simon Williams
Storyboard Revisionist: Abigal McKenzie
Production Accountant: James Bramley
Legal Services: Simpsons Solicitors
Production Manager: Liam O'Leary
Production Coordinators: David Breen, Erin Slyney
Animation Directors: Steve Trenbirth, David Webster, Luke Jurevicious, Higor Bagetti
Music by: Scoresaurus
Composers: Leigh Fisher, Nicholas Lam, Simon Mavin
Sound Designer: Anthony Aston, Nathaniel Joyce, Cameron Milne, Mireille Abbott
Audio Post Producer: Sharika Toth
Audio Post Production: Rumble Studios
Picture Post Production: Nice Post
Online Editor: David Tindale
Executive Producers: Patrick Egerton, Amanda Isdale, Richard Rowe, David Webster
ABC Production Executives: Sacha Gregson, Angela Burgess