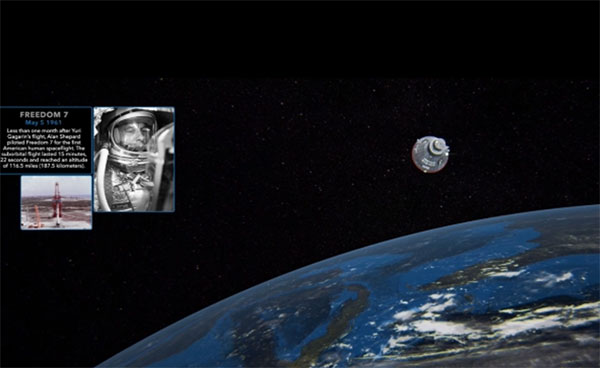 Chronica Creative
We were tasked with creating a panoramic two projector blended projection infographic for the Exhibition - Apollo; Whene We Went To The Moon for the United States Space and Rocket Center in Huntsville Alabama.
The infographic spanned the period of the Space Race between the Soviet Union and the United States starting with Sputnik and ending with Apollo 11 landing on the moon.
We identified a few key moments in history and created Hero shots that would engulf the entire projection screen.
Our brief was loose and we were able to have a fair amount of liberty with content, design and animation.
We modelled spacecraft and Astronaut tools in C4D, Created the motion Graphics and performed Grading of 3D content in After Effects and cut archival video in Premiere.

The exhibition is currently on Display in the United States Space and Rocket Center before going on tour in February 2020.
CATEGORY: Education & Infographics
CREW
Andrew Turland
Riley Nicholls
Josh Godfrey

SOFTWARE
After Effects, Premiere, Cinema 4D