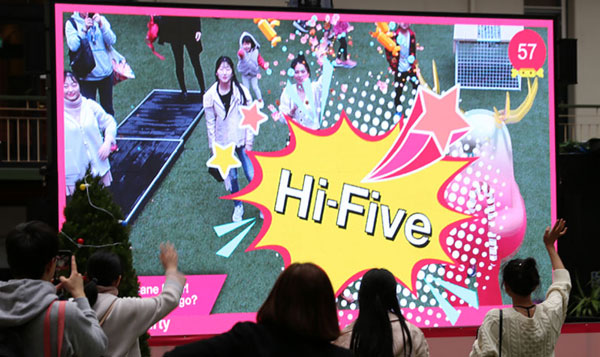 VANDAL
VANDAL was commissioned by Dexus to execute the QV Colour/Party Campaign, Augmented party host character, live screen augmented reality experience as well as the limited time only Facebook filter.
Under the creative direction of VANDAL, QV Cane-Deer, the official party host of QVs Colour Party, was developed and crafted in Augmented Reality by Virtual Immersive.
QV Cane-Deer, a jolly dancing Christmas creature is half reindeer and half candy. The Live Augmented Experience was activated on QV's outdoor LED screen and invited visitors to encounter a tangible, interactive experience of augmented technology. Visitors were then invited to snap a selfie dancing with QV Cane-Deer for their chance to win exclusive weekly prices. For a limited time only visitors were invited to scan QR codes at QV Square to activated a unique QV Colour Party Facebook filter. The custom filter allowed users to take photos with QV Cane-Deer in augmented reality, or transform into him by opening the Facebook selfie filter in their smartphone.
CATEGORY: Live Event Installations & Projections and Augmented Reality

CREW
VANDAL
CD: Emile Rademeyer
EP: Anna Greensmith
Lead Designer: Terri Bertakis
Flame: Phil Stuart Jones
Sound Design: Nigel Crowley
VIRTUAL IMMERSIVE: Interactive real time production, animation & programming
Facebook Filter - Don Logan
UX Director and Realtime Art - Saxon Dixon
Lead Developer and Onsite Implementation - John Doolan
Character Model, Texture, Rig and Animation - Andrew Kimberley
ORTOLAN
Campaign Creative & Art Direction: Ortolan
Other Crew: QV Melbourne / Dexus
Marketing Manager: Sarah Hynes
Marketing Executive: Lori Schmidt
Marketing Executive: Monica Booker