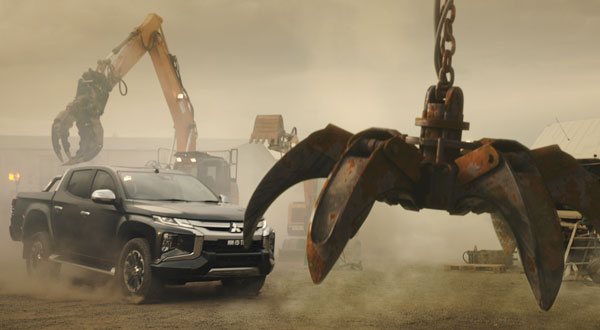 New Holland Creative
Mitsubishi Motors Australia and Richards Rose have unveiled their latest campaign, 'Nothing can frighten a Triton'.
Directed by Jonathan Nyquist of McFly, RichardsRose approached New Holland for our combined talents in concept design, illustration and seamlessly integrated visual effects. All work was painstakingly created in-house at New Holland, including final post in Flame. New Holland artist, Simon Cowell painted all the "surreal" Ghost Train hoardings which were then made into working 3D doors that we see throughout the television & digital campaign.

It was a great collaboration between the RichardsRose creative team, Jono at McFly and the multi-disciplined artists at New Holland Creative.
CATEGORY: Commercials - VFX

CREW
Brendan Savage - Creative Director
Simon Cowell - Concept Artist
Luke Bubb - DMP
Chris Harris - 3D
Chris Breeze - 3D
Matt Hermans - 3D
Ferry Taswin - FX
Stuart Cadzow - Comp, Online

Pauline Piper - VFX Producer
Toby Deneen - Editor
Ben Eagleton - Colourist

McFly
Jonathan Nyquist - Director
Christine Tan - Producer
Matt Toll - DOP

Richards Rose
Adam Rose - ECD
Tanya Hairman - Head of TV
Liam Hillier - Senior Art Director
Dominic McCormack - Senior Copywriter

SOFTWARE
Maya, Houdini, Nuke, Flame, Photoshop