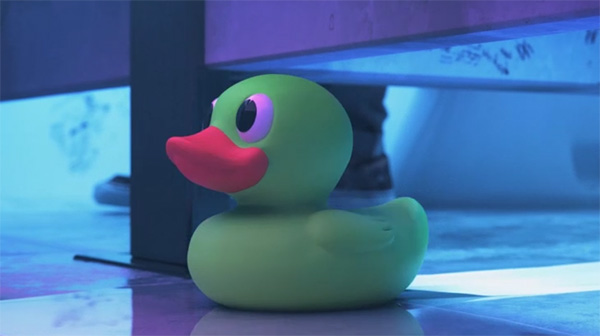 Jumbla
Raving Rubber Ducks, Thumping Bass, and Neon Lights
When iconic, London-based entertainment empire Ministry of Sound approached us about creating a 30-second UK television commercial to promote their 2018 Trance Nation album, we knew this was a project that we could have lots of fun with.
We wanted to capture the feelings of escapism, excess, indulgence, and excitement of an unforgettable night spent at the Home of Dance Music, Ministry of Sound. Our goal was to keep the club atmosphere realistic, but overly stylized and constantly stimulating -- much like the atmosphere of Ministry of Sound itself.
Sony came to us with the perfect partygoer already in mind: a raving rubber duck.
Pushing the Limits
Because the commercial takes place at a rave, one of the biggest challenges our team had to overcome were strict UK regulations around what could and could not be shown on television.
Our more risque ideas, like showing several pairs of legs in a singular bathroom stall or the inferences viewers could make from the duck's dilated eyes, had to be left on the cutting room floor.
But even if the duck was a bit more straightedge than we'd initially imagined, we still wanted to give him an epic night out.
Between crowdsurfing, doing a duckface post in the bathroom mirror, going for a wild ride on the hand dryer, ending up in DJ booth, and waking up still in the club, underneath a poster for the new Ministry of Sound Trance Nation album, our friend has had quite a night.
We'd say he had one hell of a night.
The Right Team to Pull it Off
So, how did we make it happen?
We first created a storyboard to walk the duck through his night. We knew we wanted it to be all about the music -- so we made sure everything was lined up perfectly to feature different tracks.
Next, our team modelled the gritty club interior, the bar, and the bathroom. We also added some ambient effects to create the perfect club lighting. To make sure the duck had all the right dance moves, we used a physics-based simulation that allowed us to randomise his twists and twirls.
Be sure to keep your eye out for our Jumbla easter egg in the spot (hint: it's to the left of the hand dryer.)
CATEGORY: WebViral
CREW
Creative Director: Callan Woolcock
Design Director: Cornel Swoboda
3D Lead:Cornel Swoboda
Producers: Laura Breaden, Steve Bradshaw
Art Director: Cornel Swoboda
3D Artists: Cornel Swoboda, Jordan Booker
Director: Callan Woolcock
Lead Animator: Cornel Swoboda
Sound Design: Sean Crowley