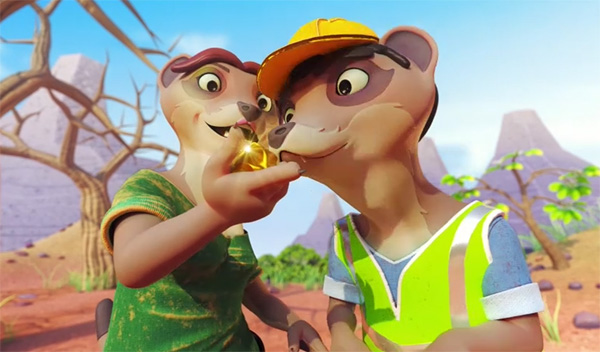 Jumbla
Meerkat Mining is the name of the game. When the client, Nathan Robinson, flew in to brief the team, we thought it was definitely an opportunity to show off the talents of our 3D team and our love for details in sweeping scenes.
We got to work with a few software programs we don't use every day to produce a 90-second piece of content marketing we're all pretty proud of.
Tech Talk - how we did it
We used four programs in the development. As this was a promo for a game that had already been produced, we were supplied with existing models in Blender 3D for many of the characters that ended up in the spot.
While we don't use this program very often, Richard, one of our team, was all over it.
Maya 3D Studio Max, Cinema 4D and Element 3D in After Effects were used at various stages to add the detail.
The original characters were "retopologized" – had to get that word in here somewhere – for higher res and smoother meshes.
Creative Director comments
Executive Creative Director Callan Woolcock headed up the team of four animators who worked on the job.
"Once we got our heads around what the game was, then it was pretty smooth from there," Cal said. "This was just a bit bigger scale than most of our day to day jobs.
CATEGORY: WebViral
CREW
Creative Director: Callan Woolcock
2D Artists: Richard Shilling, Jordan Booker, Baptiste Ruleau, Laura Doddy, Callan Woolcock
Compositing: Callan Woolcock
Producer: Charlotte Parsons
3D Artists: Richard Shilling, Jordan Booker, Baptiste Ruleau, Laura Doddy, Callan Woolcock
Audio: Sean Crowley
Animators: Richard Shilling, Jordan Booker, Laura Doddy, Callan WoolcockDevelopment Team: Callan Woolcock, Richard Shilling, Jordan Booker
Music: Justin Johnson