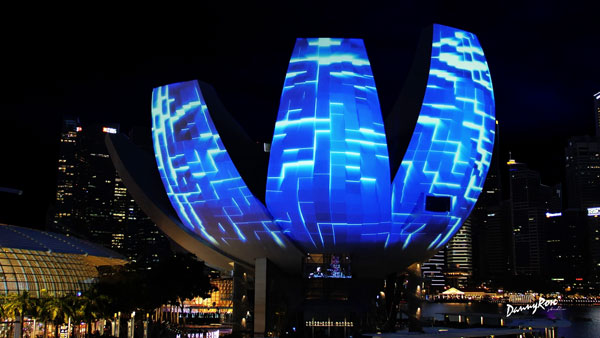 DANNY ROSE STUDIO
LIGHTHOUSE OF TIME - Light Art Installation on the Singapore ArtScience Museum for i Light Singapore - Bicentennial Edition.

The façade of ArtScience Museum is transformed into a lighthouse for a new age, a gigantic light sculpture of dancing lights.
Viewers will be immersed in an atmosphere created by an abstracted dance of light and shadow, the coloured lights appear to possess mass and weight and seem to model the Museum façade by playing with the perception of space.
Signaling a point of reference and providing an intangible constant in time, these lights orchestrate a spectrum of emotions in the viewers.

CATEGORY: Live Event Installations & Projections
CREW
Light art installation created and designed by DANNY ROSE STUDIO
Cédric Péri, Lucia Frigola, Sergio Carrubba, Paola Ciucci,
Visual artists, animators: Cedric Peri, Lucia Frigola
3D animators: Cedric Peri

Original soundscape by Emanuele De Raymondi
Soundscape design and development by Jacopo Carreras
SOFTWARE
Danny Rose's artists designed the project and created the motion graphics and CG effects in Photoshop, 3dsMax,
Black Magicdesign Fusion 9 and After Effects.