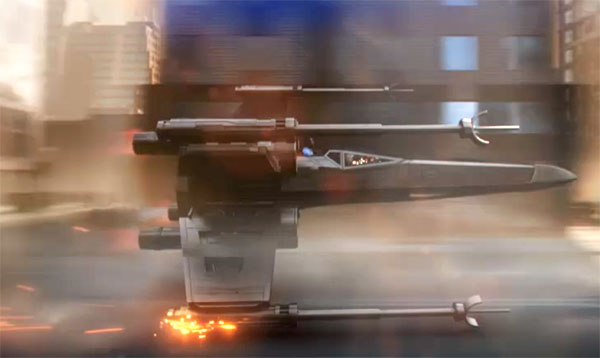 We were thrilled to be given the opportunity to deliver animation and VFX for LEGO's first ever holiday TVC campaign. Working with M2Film on behalf of The LEGO Agency, Outpost built multiple 3D environments, assets and characters for the 60-second TV spot, which tells us that the only barrier to creating amazing things with LEGO is your imagination.

Our contribution is felt throughout the action. Our main tasks were to produce believable 3D city environments, complex 3D assets and characters and also a solid allocation of tricky comp sequences to seamlessly combine what was caught in camera with our 3D work.

After receiving storyboards and early creative from M2Film we were invited out to Prague to supervise the shoot from a visual effects standpoint and help the crew to shoot animation-friendly plates. Work then began on concept art for the dragon and the large metal creature at the end of the commercial. We also worked closely with our client to get the right look for the Kapow! effect that is prevalent throughout the spot, utilising Houdini's powerful toolset to iterate through multiple smoke styles until we arrived at the finished effect.

As well as conceptualising, sculpting and animating brand new characters for the commercial, we were also asked to put together a sequence featuring the iconic X-wing from Star Wars. Again, we built this asset from scratch in-house and then set about animating its flight through one of our fully-CG environments.

A real highlight was the trust put in us to work with world-renowned IP and add our voice to a campaign from one of the world's best-loved brands, LEGO. The message is really strong and it was a pleasure to be involved throughout the process. This was a hugely creative commercial to work on with a lot of heavy CG sequences to tackle, which proved a stern but immensely fulfilling challenge with only 11 weeks from concept to completion.
Outpost
CATEGORY:Commercials - Animation
Outpost
Outpost VFX crew:

Moises Arjona, Emily Birkett, Steve Boden, Nicola Brennan, Josh Chappell, Anurag Deshmukh, Ben Duff, Eleanor Dupont, Elena Estevez-Santos, Ian Fellows, Paul Francis, Maurizio Giglioli, Jordi Girones, Kris Gropatsakis, Fay Hancocks, Gez Hixson, Marcin Kolendo, Muzaffer Korkut, Joe Lawrenson, Marko Leppanen, Hugo Melo, Steve Molloy, Giorgio Pitino, Leo Pritchard, Cale Pugh, Tom Rowell, Kevin Russell, Dave Sadler-Coppard, Ashley Simpson, Paul Smith, Renato Suetake, Daisy Summerfield, Ollie Turner, Giacomo Venturi, Nick White, Alysia Wildman End client: The LEGO Agency

Production company: M2Film

Director: Thomas Mikkelsen

Client-side producer: Kirstine Dollerup