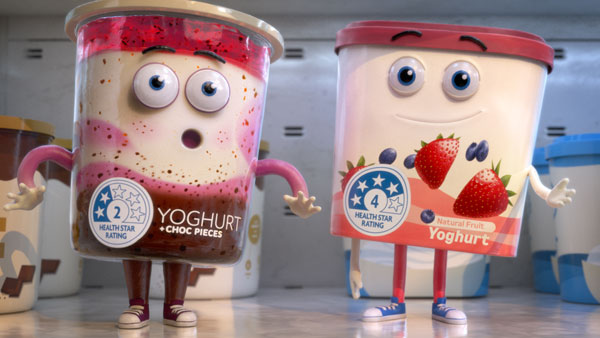 Cadre Pictures
CATEGORY: Commercials - Animation
In the initial pitch, CADRE PICTURES created quirky 2D character designs and a 3D proof of capability render. Having worked with the ad agency previously creating realistic CG hands for the Reserve Bank of Australia's new banknotes, the first challenge was to convince them and the client CADRE could nail a more stylised character project. And they did, they won the job. A 45-second fully-CG sequence with a five-week turnaround, including a series of print resolution renders.
The commercial was required to explain the Government's Health Star Rating system, and CADRE were commissioned to create an engaging animation of stylised packaged foods. Each individual packaged food needed to have a distinct personality, but at the same time couldn't be too biased towards any of the products irrespective of their rating.
CADRE's 2D concept designs set the tone for the movie, needing to make sure the relatively dry subject matter was able to hold interest, and this was reflected in the quirky characters and their performances.
The 3D characters come with all the details you'd expect, from folded cardboard flaps to manufacturing seams. But also those almost unseen additions. Tiny scratches, dust and details including fingerprint smudges, which although pretty inconspicuous, if they weren't there, would leave the products looking too perfect and lacking the necessary character and personality.
CADRE PICTURES has a parallel workflow process, while modeling was going on rigging was running at the same time. There was a universal rigging element to the arms and legs which allowed the team to skin all the components once and then use that to do them all irrespective of body shape or size. The arms were rigged so they could extend from the sides or the bottom of the packet, or even detach, depending on the happy or sad mood or the angle of the pack in the shot. The eyeball rig had 120 components to it and the mouth is the same. There were no morph targets or blend shapes on the entire job. Essentially it's like pushing PlayDoh, even the eyelids are almost infinitely pliable. The rigging was two-staged, the base rig handling the broad-stroke movements, with a secondary rig adding fine-grained controls to produce any mouth or eye shape that the animators can imagine.
Due to the amount of information to cover in the script most scenarios had a short amount of screen time, so the animators needed to quickly introduce the characters and breeze through their performance without leaving the viewer feeling too rushed.
To see more of CADRE's work visit: instagram.com/cadrepictures
or http://www.cadrepictures.com.au

CREW
VFX CREW ANIMATORS:
CGI by Cadre Pictures
VFX Producer: Steven Kerswell
Creative Director: Pat da Cunha
Surfacing & Lighting Lead: Alan Do
Technical Director: Ben Bryan
Modelling: Eoin Cannon
Lead Animator: Brian Doecke
Animator: Rimelle Khayat
Lighting: Tim Murphy
3D Artist: Duncan MacDonald
Compositing: Christopher Frey
Concept Artist: Glenn Thomas
Concept Artist: Matt Dobrich
Concept Artist: Tom Lopez
OTHER CREW:
Agency: Spinach
Client: Department of Health
Sound: Front of House
SOFTWARE
Zbrush, 3dsMax, Redshift, Adobe CC