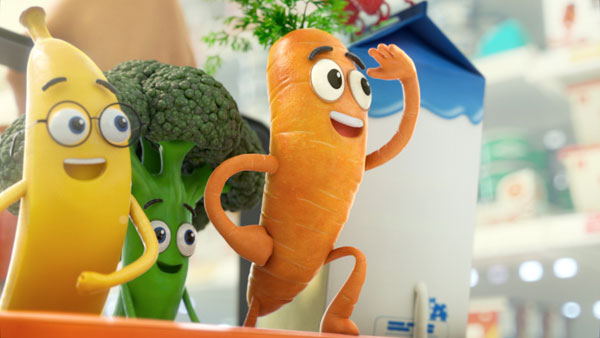 Cadre Pictures
CATEGORY: Commercials - Animation
Latest commercial for the Australian Health Star Rating campaign - fresh is best, but frozen and canned are okay too... With a collection of new food characters travelling through a supermarket, this animation aims to help the viewer make healthier choices by using the Heath Stars when shopping.
With less than 3 weeks for production following concept approval, the modelling, animation and lighting artists were all working in parallel, using CADRE's suite of pipeline tools to automatically share and populate updates across the various disciplines. For this project the character designs and storyboards were spot on, which meant minimal creative waste or experimentation during the 3D stage, we could simply execute the plan.
GPU rendering the entire commercial was very quick, with in-camera depth of field all shots could be completed within a few hours, even using print resolution character assets with 8k maps.
To see more of CADRE's work visit: instagram.com/cadrepictures
or http://www.cadrepictures.com.au

VFX CREW ANIMATORS:
CGI by Cadre Pictures
VFX Producer: Steven Kerswell
Creative Director: Pat da Cunha
Surfacing & Lighting Lead: Alan Do
Technical Director: Ben Bryan
Modelling: Eoin Cannon
Lead Animator: Brian Doecke
Animator: Paul Ziola
3D Artists: Nathan Juno, Duncan MacDonald, Steven Cheah
Concept Artist: Rhys Griffiths
OTHER CREW:
Agency: Spinach
Client: Department of Health
Sound: Front of House

SOFTWARE
Zbrush, 3dsMax, Redshift, Adobe CC, Fusion