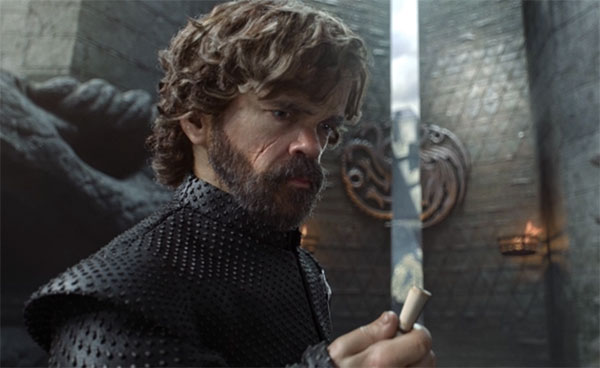 RealtimeUK
We are all massive fans of the show, so this project was a dream to work on. That came with huge pressure, as we know how well known and loved the characters are all over the world – so we had to nail the quality and create a truly authentic GoT experience for the viewer.

Our task was to introduce the viewers to the official HBO licenced game and create a trailer that was authentic to the TV show in every way. The message of the trailer is the impending threat of 'winter is coming' and how that links the key houses from the show as they prepare for what is to come. The trailer is split in to two sections, one literal showing the characters in real locations from the show and the other more abstract showing the Sigils that represent the houses being overcome with the frost of winter. We decided internally that the raven was going to be the thread that weaved through the two separate sections and illustrate the journey of the message of war. The trailer was designed to be a teaser for the epic battles that would follow!

This was the first time we have been tasked with creating cg versions of well-known characters, and there is nothing like jumping in at the deep end! And to top of the complexity of the task we knew from the start that we would not have access to the actors or any scan data. So, the search for reference began, the client provided some good onset photography which was especially helpful for the clothing and apart from that the whole team scoured the web for any material we could find. The main challenge that arises from using multiple sources of reference is variations camera lenses and lighting, it's amazing how these two factors completely change the perception of form in the human face. We would always find the camera lens data in any reference we used and do test renders with cg cameras to match but we found that still left us short of finding the characters instantly recognisable read. After multiple iterations the amazing character modelling and lookdev team had created these great assets but we found we lost the likeness in the shots from the animatic, we then realised we would have to go back and adjust all the lenses and camera positions to mimic the cinematography used in the tv show, that was the only way we could get that instant read on character we had been looking for. This was the tipping point for when the whole thing came to life and we knew all the amazing lookdev would find its way into the final Trailer.
CATEGORY: Game Trailers
CREW
Graham Collier - Lead VFX
Adrian Vickers - Senior VFX
Will Eades - Lead Animator
John Batchelor - Senoir Animator
David Weaver - Senior Character Artist
James Kirkham - Lead Lighting
Chris Scubli - Senior Lightin/Compositing Stuart Bayley - Director
SOFTWARE
Premiere Pro