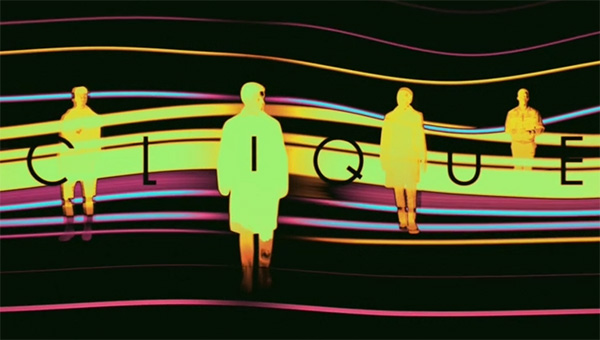 Jumbla
Challenge leads to great work for Jumbla London client
Creating something an executive producer has never seen before is quite a challenge. Especially when you consider we'd done some pretty "out there" work for the opening sequence on the first season of Clique (a BBC3 thriller about two BFFs who go to university together).
EP Bryan Elsley told us there was no script for the sequence but that he saw the opening to be a sort of branding for the show. Whatever we'd create would become a marque that viewers should instantly associate with the show.
We were pushed out of our comfort zone, but we had a client that trusted us.
Bryan wanted an evolution from season one. So, it was important to keep it colourful and relatable to youth culture. At the same time, they asked for something a bit darker without losing the original vibrance.
In the end, we reached that result by adding slow motion and giving more impact to the logo, the key brand element. On top of the credits, we also produced the motion graphics in episodes four and six.
CD comments
"The opening sequence, in their words, had to work as the branding of the series, so the audience would look at it and instantly recognise the show," Jumbla UK Creative Director Vitor Cervi said.
"It was rewarding when they told us the animation didn't look like anything they'd ever seen before. And that was a good thing. It meant we'd answered their brief."
Technical/style comments
It's all 2D and VFX, developed over captured footage - in essence, design-driven motion graphics, but seen through an animator's eyes.
Everything was made in After Effects. We researched different ways of distorting images and ended up using a lot of effects that had always been in the software, but are usually forgotten or considered to give "ugly" results.
We decided to use moving footage this time which increased drastically the amount of work. There's also a lot of compositing and frame by frame work involved.
CATEGORY: Titles/Openers - TV

CREW
Creative Director: Vitor Cervi
Lead Animator: Vitor Cervi
Director: Bryan Elsley
2D Artist: Vitor Cervi
Producer: Laura Breaden