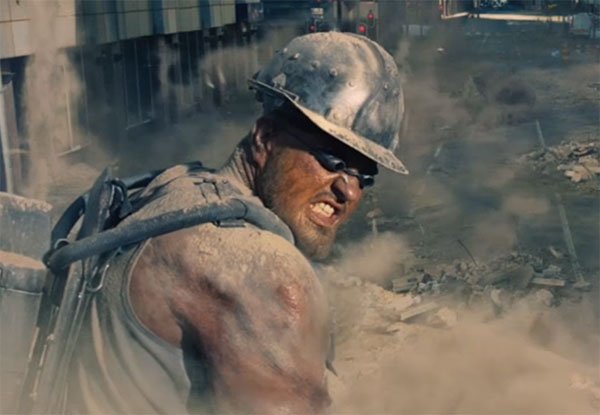 MPC
Everyone loves a good legend. In the action-packed spot for BMW, the X7 and its driver Ol' McLanden become the 'warrior knight', going into battle against a series of imaginative archetypes drawn from real-world driving obstacles on its journey home. The story is inspired by children's fables - narrated like it is straight from a storybook.

The X7 starts its journey being chased by a fleet of bankers nicknamed Bulls of the Bank, then it encounters crashing waves summoned by the giant Poseidon before narrowly avoiding the chaos created by Roy the Destroyer and his colossal road-drilling machine. It then escapes the Genius and his fiendish lawyer, who unleashes a crowd of supernatural birds, then races away from the bikers across the dramatically collapsing Razorback bridge, before facing its final mission: pick the children up from school and make it home safely.

The film had four large-scale VFX sequences. Supernatural birds, Poseidon's waves, Roy's destruction, and the bridge collapse were CG. For Poseidon's sequence, a tremendous volume of water came from the hydrant, creating a tidal wave crashing down the street. All shots had different lighting set-ups - back lit, in-shadow and front lit - it was important to keep the look consistent. For the bridge collapse, we shot bikers on a real bridge location, then replaced everything. The environment concept came from aerial photography from Hawaii. We had to shoot Roy from a different perspective at a slower frame-rate to achieve the 'giant' factor, then created a CG destructed street. Stone, metal and glass was simulated and fractured. Compositing was key - we extended/rebuilt 90% of environments. E.g. the banker scene was shot in a four-story building street - we added in 40-story buildings, widening the street to match the grandness.
CATEGORY: Commercials - VFX
CREW
Creative Director: Michael Gregory
Shoot Supervisors: Michael Gregory, Dan Seddon
CG Supervisors: Ryan McDougal, Tim Kafka, Josh Hatton, Nishanth Shrinivasa, Boyo Frederix
Lead Compositor: Toya Drechsler
Compositors: Rodrigo Jimenez, Guillaume Weiss, Alexander Kulikov, Dylan Brown, Concept Art/DMP: Jason Heinze, Abhilash A, Bala Krishnan R, Geetesh Tari
Mohan Rao, Srinivas Achary, Silvia Bartoli, Sachin Sureshrao Dhapudkar
PreVis: Alex Moon
CG Animation: Srikar Balakrishnan, D. Venkatesan, Carl Edlund, Sashdy Arvelo
CG FX: Bhargavan SP, Prashanth Paramasivam, Andreu Lucio, Arnau Gilabert, Jinguang Huang, Andy Sheng, Nema Safvati
CG Lighting: Martino Madeddu, Sumit Kumar, Asher Stusek
Executive Producer: Karen Anderson
Senior VFX Producer: Christian Downes
VFX Coordinator: Justin Rogers-CdeBaca
Producer: Mireille Antoine
Line producer: Chris Preston-Barnes
Colorist: Mark Gethin
Executive Producer, Color: Meghan Lang
Color Producer: Rebecca Boorsma