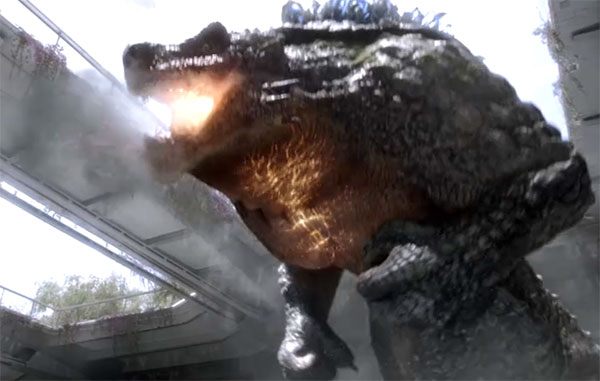 MPC
Apple wanted to showcase the ability of their new A11 Bionic chip used to enhance the phone's
performance during gaming, so when the hero character plays a game on his phone, the game
creatures came to life as he battled his way through the bustling city streets.
MPC created the real-world version of the game through two key ways: adapting the filmed
location background plates to create a fantasy environment, and bringing to life the three main
characters as fully photoreal CG creatures.
We used Lidar technology to scan each of the four key filming locations for tracking in
our multi‐level environment transformations. There were a range of levels that we had to work
on: the far distance level which was based on compositing in 2D matte painting work; mid-
ground elements which were created as FX simulations of growing vines, trees and cracks
around the buildings and architecture; and the close‐up level which closely choreographed
animations with supporting FX debris, dirt and leaves.
We took the game level characters as our starting point and produced many variations of
concept art to create the best interpretation of a film‐ready hero. From this basis the creatures
were each modelled and textured with the knowledge that they would be seen at extreme
close‐up on screen, sometimes filling the entire frame. We studied gameplay sequences to get
the broad strokes for design, texture scale and movement. The process was an additive one –
judging how much color, reflectivity, shine, grit and realism could be injected, while keeping the
core identity relatable.
Every shot in the film was touched by visual effects, from adapting backgrounds to be less
recognizable, to environmental skinning and terra forming as trees and shrubbery grew out of
the structures, to full recreations of backgrounds.
CATEGORY: Commercials - VFX
CREW
Creative Directors: Michael Gregory, Rob Hodgson
2D Supervisor: Oliver Caiden
Comp: David Ince, Hector Cabrera, Jim Spratling, Josh Guillaume, Rodrigo Jimenez, Kathleen Kirkman, Sam Shiftlett
Head of 3D: Ryan McDougal
CG Supervisors: Josh Hatton, Julian Fitzpatrick
Animation: Andrew Price, Chris Meek, Samir Patel, Sashdy Arvelo, Ty Coyle, Meghan Sesnie, Lyndsey Horton, Alex Moon, George Antzouildes, Ankan sanyal, Shiny rajan
2D: Guillaume Weiss, Rod Norman, Emma Taylor, Michelle Tolo, Neil Miller, Dan Lorenzini
3D: Anthony Bloor, Carsten Keller, Dominic Alderson, Kristian Jensen, Thomas Carrick, Andy Steele, Benjamin Tron, Arnau Gilabert
Assets: Koustav bhowmik, Kalaiarasu P, Mithun Jacob Alex, Vivek Tekale, Shaik Abdul adil, Rahul Verma, Manideep sanisetty, Nanda kumar P, Vipin Tripathi, Uday veerepalli
DMP: Radhakrishna Rethinasamy, Sachin Sureshrao Dhapudkar, Mohan Rao, Srinivas Achary, Joyett fernandes
Lighting/ LookDev: Joey Sila, Julian Fitzpatrick, Nate Skeen, Tim Kafka, Clem Renaudin, Rune Mansson, Zhenya V
Modeling: Christian Sanchez, Joel Durham, Lim Bunu (Lersak Bunupuradah), Rodrigo Carrasco, Annie Zhao, Dennys Herman
FX: Andy Sheng, Jin Huang, Stefano Georgette
Concept Work: Tianhua Xu, Jeff Julian
Matchmove: Sivapriyan Seetharaman, Prashanth paramasivam, Nithin TK, Ajith PA, Ankit dheeraj Toppo, Achiraju Konduru, Shaik Abdul Rahim, Sreenivas Aditya, Sojesh Kannoth
Prep: Arulanandhan Pandian, Kajal Pandya, Kiran Veeraswarapu, Prashant Palaparthi, Vignesh E, Suresh pitchuka, Trishul pani Mishra, Vaishali Awaghade, Veerapandian
Roto: Joslin Job Mathew, Rajesh Kumar P, Shagandeep kaur, Sriram P