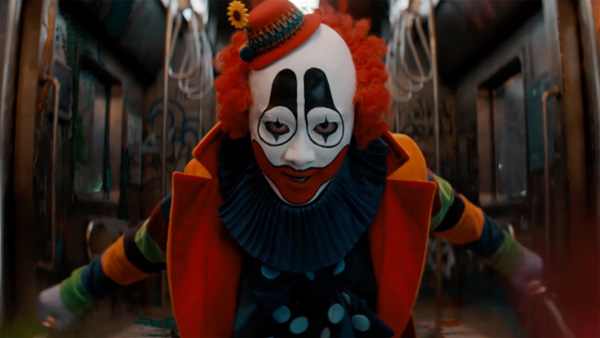 Fin Design and Effects
Working closely with Bang Bang Pictures and VFX Supervisor John Dietz, the Fin team designed some key visual elements to aide in the story telling. One of the more fun challenges was the creation of a mind melting glitch effect which often transforms the film's hero into a sword welding, monster fighting clown. All aspects of Fin's bespoke visual effects pipeline have been called into action to create photo-real clowns and monsters battling while our hero's world bends around him.
Another key design challenge trusted to Fin has been some fully computer generated moments to help explain the rules and theories behind the game of survival which the movie revolves around. Fin VFX Supervisor, Stuart White remarks "Rather than go with a traditional motion graphics treatment to explain the gameplay, we chose instead to create an imaginary space we called Limboland. It represents a room inside our hero's mind into which he retreats to plan his strategy in the game. It's visual elements of cards and art deco design are all lifted from the world in which the action takes place, but his mind has mashed them up into a room than only he can see.
CATEGORY: Feature Films VFX
CG Supervisor
Stuart White
Robert Grbevski
Comp Supervisor
Shane Rabey
Digital Artist
Colin Ware
Ellie Sutton
Guy Masonwells
Gordon Baker
John Oldroyd
Jorden Martin
Justin Bromley
Mark Boey
Mark Facchin
Matthew Wynne
Mikey Brown
Nathan Wilson
Pawel Olas
Phil Sloggett
Ryan Basa
Shane Brouwer
Tim Streets

Executive Producer Chris Spry
Executive Producer Alastair Stephen
Production Manager Alexis Jacobson
Producer Haris Kruskic
Production Support Ella Lister
Systems David Stewart
Systems Mark White
Systems Max Robinson