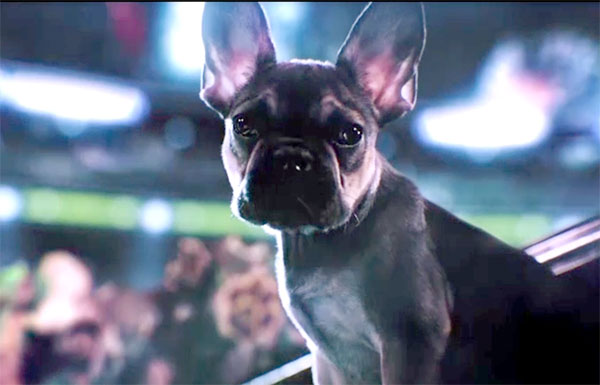 2C Creative
Commissioned to help promote Animal Planet's "Puppy Bowl XV," 2C Creative delivered a playful trailer with just enough epic flair to do proper justice to the event's 15th anniversary. The Miami-based creative agency fused live action, sound design and VFX to bring life to a concept developed by the network, and set it all against the musical backdrop of Mötley Crüe's anthem "Home Sweet Home". Mötley Crüe donated their fee in support of animal rescue. The resulting spot embraces the mantra: At Puppy Bowl XV, we don't go big or go home. We go big AND go home.
Approaching the project, one of 2C's biggest challenges was creating a completely believable 3D environment that would match the live plate of the puppy and the piano player. The shifting focus in the live plate meant some of the tracking data was less readable. The creative agency responded with a great deal of camera match moving, as well as live plate stabilization, in order to make the two work together.
For the trailer's crowd scenes, 2C also needed to populate the arena with spectators using limited shots of groups that were picked up during the shoot, and do it all in a way that didn't appear repetitive. The agency used a special finesse in giving the crowds variety without using 3D crowd simulation, which also kept the project within budget.

CATEGORY:Commercials - VFX
2C.TV
CREW
VFX CREW ANIMATORS:
Luis Martinez - Design Director 2C Creative
Bob Cobb - Executive Producer Graphics / Compositor 2C Creative
Dmitri Zavyazkin - VFX Artist / Colorist 2C Creative
Akel Issa - 3D Artist / Compositor 2C Creative
Adrian Dgerotxxo - Roto Artist 2C Creative
Luis Castaneda - Roto Artist 2C Creative
OTHER CREW:
Pablo Pulido - VP of Marketing Animal Planet
Nick Giattini - Senior Producer Animal Planet
Lisa McKenna - Director, Production Animal Planet
Chris Sloan - Chief Creative Officer 2C Creative
Nikki Coloma - General Manager / Senior Director of Operations 2C Creative
Brian Eloe - Creative Director / Live-Action Director 2C Creative
Marni Wagner - Creative Director 2C Creative
Jesus Martinez - Lead Editor 2C Creative
Ashley Hartford - Technical Operations Manager 2C Creative
Williams Naranjo - Assistant Editor 2C Creative
Kelly Lanman - Assistant Editor 2C Creative
Chuck Ozeas - Director of Photography
Russell Katzman - Line Producer

SOFTWARE
Cinema 4D, Maya, DaVinci, After Effects