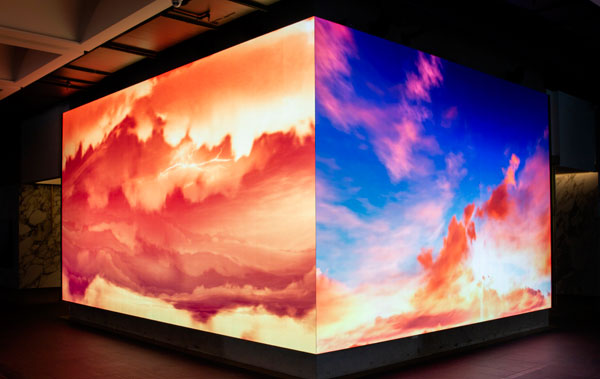 VANDAL
VANDAL delivered to ISPT an astonishing Digital Placemaking Identity and Digital Art Canvas for the landmark redevelopment of 100 Creek St, Brisbane. Integrating a state-of-the-art digital canvas into the impressive concrete-laden lobby, VANDAL delivered hardware, software and content for this flagship project.
Under the direction of VANDAL's Richard Swan, the numbers '100' are used as the artistic vehicle to emblaze the animated identity of the building on the huge Digital Canvas, seamlessly morphing in and out of the lobby's concrete and marble textures.
The Place Identity showcases "The Elements of Queensland" as mesmerising cinematic footage, exhibiting in excess of 5 hours of VANDAL's content for each nature-inspired installment. The Installments run for 2 month each: water, rainforest, sky, coral, beach and earth.

CATEGORY: Live Event Installations & Projections
CREW
VANDAL
CD: Emile Rademeyer
CD: Richard Swan
Technical Dir: Stephen Dunn
EP: Anna Greensmith
Designer: Darrin Hanley
Designer: Robert Dinnerville
Colourist: Daniel Pardy
Audio/Sound Design: Nigel Crowley
Cinematographer: Mariah Dunn
Other Crew:
ISPT
Development Manager: Nic Spencer
Property Investment: Malcolm Kemp