AixSponza in Munich produced a short film incorporating photoscanned seashells, other objects and people, detailed sculpting and beautiful photoreal renders from Octane and Arnold.
AixSponza's 'Seed' Blooms at AEAF Awards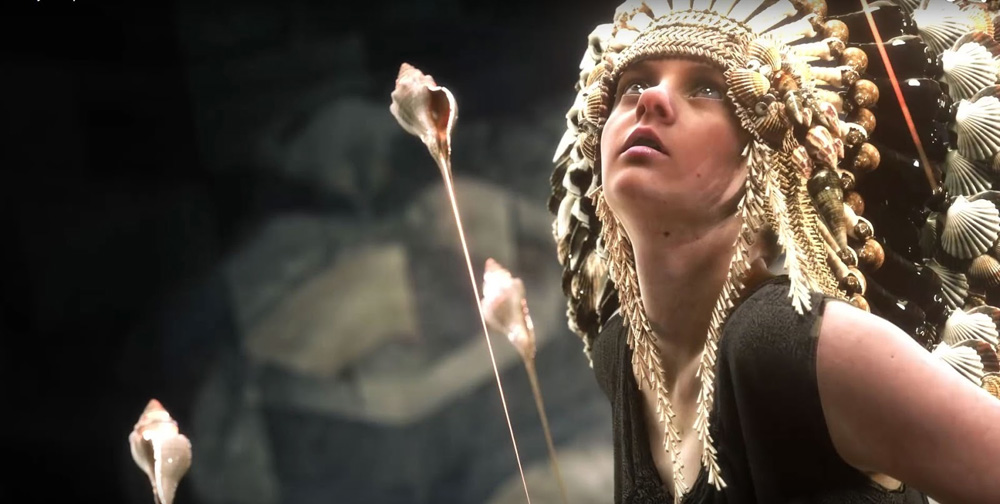 One of the most visually beautiful animated 3D projects at AEAF this year is 'Seed' from AixSponza in Munich, Germany, in the Short Film category. This in-house film was born partly from the director Manuel Casasola Merkle's interest in photoscanning objects, including people, and using the scans in a photoreal project. They started by testing various ideas as scenes in their main 3D package Cinema 4D to reveal some possibilities that would work best in the software and, from there, give the team some direction.
"Photoscanning of nearly all objects, Octane and Arnold rendering, Softimage ICE for a few shots, Houdini for a few others and heaps of Cinema 4D for all of the rest gets the shells flying and glowing," said Manuel, project TD as well as director. "Add a bit of WorldMachine for landscapes - with ZBrush and Modo for cleanup and retopo - and you've got our pipeline for this piece."
AEAF Speaker Lineup & Session times at a glance
16 August
AEAF VR Hub - VR projects for you to experience throughout the event
11am 16 August
PRODUCING LONG FORM ANIMATION
Practical advice on how to get animated features, TV series and other long form projects off the ground and into production.
Stefan Wernik
Co-Director of The Magnificent Itch
themagnificentitch.com.au
12 noon 16 August
VR/360 PRODUCTION
THE PRACTICALITIES OF CREATING VIRTUAL REALITY
Tracey Taylor, Executive Producer
and General Manager The Pulse
experiencethepulse.com
1pm LUNCH BREAK & Networking
2pm 16 August
FROM GEARS OF WAR TO LEGO STAR WARS - DECONSTRUCTING GAME CINEMATICS
Dane Maddams Executive Vice President
& Mick Hammell Head of production
plasticwax.com

3pm 16 August
NEW TECHNIQUES IN MOTION GRAPHICS
Simon Bronson
Motion Designer / Head of Design - Method Studios, Melbourne
simonbronson.com
methodstudios.com.au
4pm 16 August
VR EXPLODED - A VIRTUAL RIDE THROUGH LIQUID, REFLECTIVE BLOCKS AND CRYSTAL SIMULATIONS
Simon Maddison VFX Supervisor Cutting Edge
and CG & VR Lead, Aevar Bjarnason
cuttingedge.com.au
5pm 16 August
PANEL SESSION - with the day's speakers
IS OUR FUTURE REALITY VIRTUAL? - VIRTUAL & AUGMENTED REALITY - IMMERSIVE PRODUCTIONS

5:30pm 16 August
NETWORKING and R&R in the Chauvel bar
17 August
10am 17 August
CINEMA 4D AND AFTER EFFECTS Innovative use of Cinema 4D and
After Effects in creating motion graphics
Tim Clapham
Creative Director
Luxx
luxx.com.au
11am 17 August
TITLE SEQUENCE DESIGN
Scott Geersen
Director and Titles Designer
Substance
sbstnc.co
12 noon 17 August
Colin Renshaw
VFX Supervisor Co-founder Alt.vfx
altvfx.com
1pm LUNCH BREAK & Networking
2pm 17 August
Glenn Melenhorst
VFX Supervisor
Iloura
iloura.com.au
3pm 17 August
Paul Butterworth
Visual Effects Supervisor - Director
Animal Logic
animallogic.com
Paul will share the innovations and creative processes as they evolved on his
most recent projects at Animal Logic
4pm 17 August
WETA DIGITAL
Weta Digital is one of the world's premier visual effects companies. Led by Senior Visual Effects Supervisor Joe Letteri,
Weta Digital is known for uncompromising creativity and a commitment to developing innovative technology.
Weta will talk about their ground breaking VFX work - detailssoon, keep looking.
wetafx.co.nz

5pm 17 August
DISRUPTION - The future of VFX
PANEL SESSION with AEAF's speakers about disruptive new ways of creating, distributing and experiencing visual content using: Cloud services - Light Field technology - VR and immersive storytelling and more.
5:30pm 17 August
Drinks Reception & networking
7-8:30pm 17 August
AEAF AWARDS
After Awards drinks and networking
REGISTER TO ATTEND
AEAF Schedule
Speaker Program
11am - 5pm 16 August
10am - 5pm 17 August
5:30pm 16 August
NETWORKING and R&R in the Chauvel bar
AEAF Awards
Drinks Reception 6pm 17 August
AEAF Awards Screening 7:30 - 9pm
After Awards drinks and networking
AEAF VR Hub - VR projects for you to experience throughout the event
Chauvel Cinema 249 Oxford St Paddington 2021
Venue and Registration details
Full two-day Speaker program and AEAF Awards Screening,
Early Bird price with discounts for multiple bookings
1 person $145
2 - $138 per person
3 - $131 per person
4 - $125 per person
5 - $119 per person
plus gst
AEAF Awards Screening ONLY - with discounts for multiple bookings
1- person $32
2 - $30 per person
3 - $38 per person
4 - $27 per person
5 - $25 per person
plus gst
REGISTER TO ATTEND
For enquiries or special requests including group discounts - please call or email us. AEAF Enquiries Tel 02 9332 2822
Chauvel Cinema 249 Oxford St Paddington 2021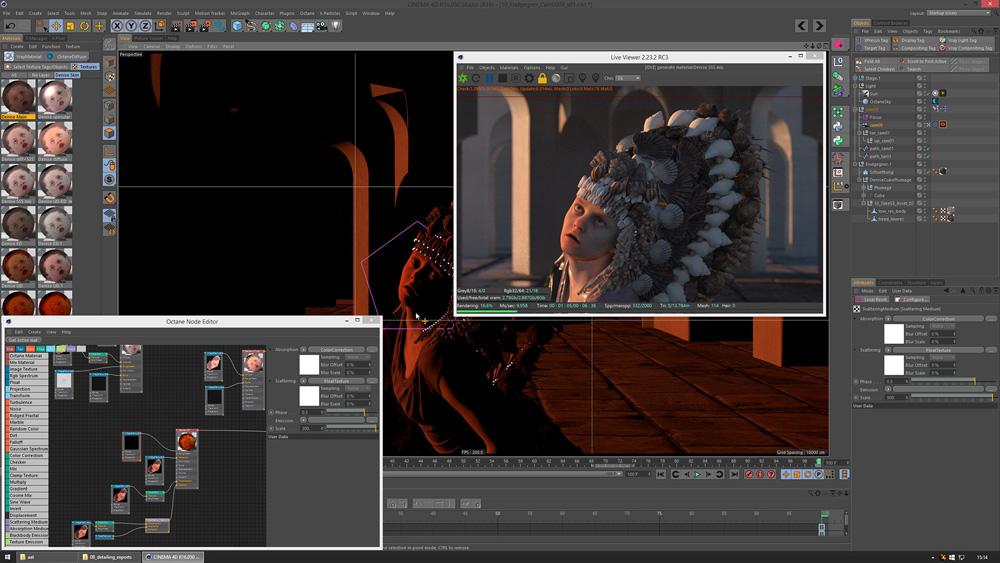 Getting started with the music for the soundtrack at the same time was also important for direction, and included experimenting with a new electric musical instrument for a new sound.
A technical advantage they had was early access to the new Release 17 of Cinema 4D, still in the testing stages at that time. R17 has its own spline tools for modelling instead of having to switch to another software, edge detection for sculpting hard-surface models, and a Sculpt to PoseMorph function supporting character animation. The motion tracking is more accurate, and the rendering in R17 gives more control over shaders and materials. www.aeaf.tv